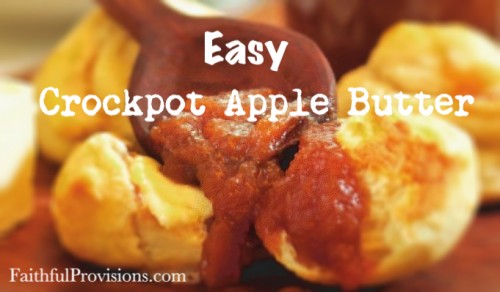 This Crockpot Apple Butter recipe is going to make your house smell amazing. If you are going to make this, prepare your husband before he gets home that you are not eating what he smells for dinner! My hubby came home last night and immediately said, "What's for dinner? Smells great!" LOL–Sorry, honey! This batch is for gifts!
Slow Cooker Apple Butter
This is a super easy recipe for Slow Cooker Apple Butter. It is also a great homemade holiday gift idea for teachers or family. Once you add up the cost of the apples and the jars, it is pretty affordable, especially for a really special homemade gift that people LOVE!
*Scroll down to use print recipe feature and add to your Recipe Box.
A few things you need to get started:
crockpot
funnel
canning jars (recommended 8 oz. jars)
large stock pot (to boil jars/lids)
recipe ingredients
12 hours to cook from start to finish
Here is the recipe for the Apple Butter, be sure to read the instructions and full recipe BEFORE you start — you need a 12-hour window from start to finish. It makes approximately six 8-oz. jars or three 12-oz. jars. Below are step by step instructions, with pictures to show you how to do each one. The process is super easy! Let me know how yours turn out.
Canning Apple Butter
If you are looking for a recipe for canning Apple Butter please note: The recipe below is not a formal "canning" recipe. For the recipe below, you can refrigerate or freeze to preserve your apple butter longer. Or, you can click on the links in the recipe below for step by step directions on canning your apple butter. Since these are apples, you will need to have them in a waterbath canner for about 20 minutes, not the 40 minutes listed in the canning tomatoes tutorial link. Hope you enjoy them!
Crock Pot Apple Butter Recipe
Serves:
36-40 ounces of apple butter
Ingredients
5.5 lbs apples, cored, peeled and cut into quarters
3 cups sugar
⅔ cup cider vinegar
3 tsp cinnamon
½ tsp ground cloves
½ tsp allspice
¼ tsp salt
Instructions
Combine all ingredients and cook in crockpot on low for 10-12 hours, or until they are mushy and soft. The apple mixture will look like dark applesauce.
Nutrition Information
Serving size:
8-12 oz jars
Instructions for preserving these in the refrigerator or freezer:
1. Once apples are ready (they will look like dark brown applesauce), boil the jars and lids (not the rings/bands, just the part that you screw on) in a large stock pot for about five minutes.
PLEASE NOTE: If you want to do a pure "canning method," follow a water bath canning procedure. Apple butter would be at least a 20-minute boil, depending on your altitude. If you go through this process, you may leave the jars on a shelf in your cabinet or pantry. However, the steps I have listed here require you to refrigerate and use the apple butter within a few weeks. If you want to keep it longer than that, you may freeze it.
Be sure to fill water to the top of the jars. This is to kill any bacteria on the jars and to provide a seal for the lids.
2. Use tongs to remove each jar from the water. Lay on a towel and put your funnel on the mouth of the jar. Fill apple butter up to about 1 inch from the lip.
3. Be sure the rim of the jar is completely clean. Wipe it after you remove funnel.
4. Use tongs to remove lid. (This has the sealant on it. It is a reddish color on the underside.) Lay it on the jar and screw the jar rings on tight. Then unscrew just a bit. Set upside down on towel to allow the heat from the apples and jar to create a good seal.
5. Repeat this process with each jar. You should get about five or six 8 ounce jars, or three 12 ounce jars.
Find more Homemade Gift Ideas on Faithful Provisions.
Recipe developed by Kelly Hancock ©2010 Faithful Provisions. For personal use only. May not be reproduced, reprinted or distributed for capital gain without prior permission from Kelly Hancock.