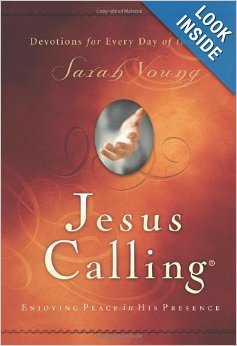 Jesus Calling Collection 40% Off
Beginning Monday, August 18, 2014, DaySpring will have everything in their Jesus Calling Collection on sale for 40% Off!  Choose from your favorite daily devotionals, calendars, cards and more. Simply use promo code JC40OFF at checkout to receive the discount.
I absolutely LOVE my Jesus Calling devotional. One of the reasons it's one of my favorite daily devotionals is because no matter how many times I read a devotional, it will speak to me in a different way each time. It's been during these quiet times that God has spoken to me about envy, peace and trust.
Here are a few more DaySpring items that I love!
Jesus Calling for Kids – My daughter has this and loves it. We recently gave this to a sweet friend who accepted Jesus as her Savior!
Jesus Calling Pass Along Cards – these are only $1.79 during the 40% Off Sale!
Daily Grace Place Cards –  These aren't included in the 40% Off Sale, but I have these at home and LOVE them!  My kids like to use them to give us a different name at dinner.  Otherwise, I like to use them when we have guests over to write the dish name on them.
Encouragement Notes – I love these for kid's lunch boxes!  They aren't included in the Jesus Calling Sale, but they're only $4.99 for a pack of 32 (that makes them $.15 per note!)
:: This sale ends on August 31st, but the most popular styles will sell out early, so I wouldn't wait to order yours.
Shop Now: Jesus Calling Collection