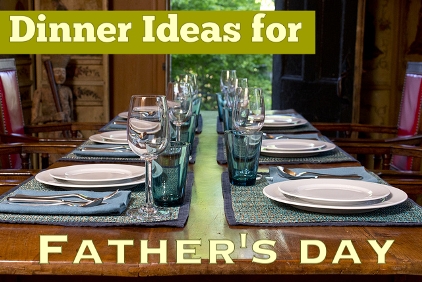 Looking for fresh dinner ideas for Father's Day? I've got recipe ideas for you, as well as some other dinner ideas that will make Dad's day extra special.
Quick and Easy Dinner Ideas
You don't have to be stuck in the kitchen working on a meal that takes hours and hours to prepare. Try any of these quick and easy dinner ideas for Dad. Use your slow cooker–the prep time is minimal, and the slow cooker does all the work, leaving you free to be with Dad.
Spaghetti – This is my recipe for a Crock Pot Spaghetti Sauce. Serve this with a salad you can put together the night before, and use your oven at the last minute to warm up rolls or French bread. Easy!
Slow Cooker Carne Asada – This recipe for Carne Asada leaves you with just putting out your favorite toppings. Five minutes from crock pot to table.
Be sure to take advantage of the items  you can make ahead and refrigerate. Serve up a quick and easy sandwich buffet:
Slice up pickles, tomatoes, onions, cheese and anything else you like on your sandwich. Serve with chips and/or veggies and offer an easy dip like this cucumber spread or this blue cheese dip with pecans.
TIP: Taking Dad out to eat for Father's Day? The best time to go is between 3:30 and 4:00 pm. You'll avoid the crowds and have a quieter, calmer atmosphere.
Father's Day Party Ideas
Make it a reason to celebrate with these Father's Day party ideas:
Create a centerpiece from pictures of Dad at special occasions, such as holding new babies, standing beside graduates in cap and gown, and in wedding attire with young brides and grooms.
Create a powerpoint of pictures of Dad and hook it up to your television set, so you can see pictures of Dad through the years.
Be sure to Skype in anyone who can't make it for Dad's dinner.
Use balloons, streamers, candles, and sprinkle confetti on the table to add to the party honoring Dad.
Have the kids or grandkids write on a special song or even a play to perform for him.
Find more Ideas for your Father' Day Dinner on Faithful Provisions.