Disney's Frozen As Low As $9.96
Disney's "Frozen" comes out on Blu-ray and DVD today!  There are some great deals available to save up to $10 off Frozen on Blu-ray!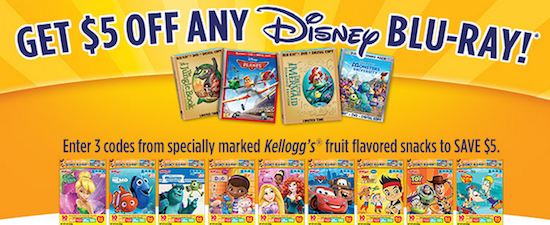 You can get a $5 off coupon for any Disney Blu-Ray movie by entering in 3 codes from specially marked packages of Kellogg's Fruit Snacks. You can use this towards ANY Disney movie, including Frozen!  If you don't have 3 codes to get the $5 coupon, you can also look for a peelie on Mama Mary's pizza crust at Walmart for $3 off the Blu-ray combo pack. (Thanks, My Frugal Adventures)
The Blu-ray/DVD Combo is on sale at many stores for $19.96, making it $16.96 after the $5 coupon. PLUS there's a $5 mail-in-rebate from Kidfresh, making the final price only $9.96!
**I would be sure to print out the MIR right away in case they don't keep the form up. As always, make sure you read the fine print so you submit the form correctly and purchase the participating products.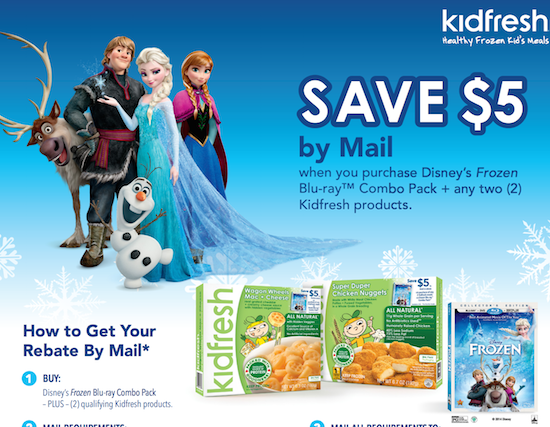 Here's a round-up of the best places to use the $5 Frozen movie coupon.   If you prefer to do most of your shopping at one location, remember that Walmart, Target and Best Buy will all price match!
Blu-ray/DVD + Digital Copy:
DVD:
Remember, the prices on these Frozen movie deals are only valid thru March 22, 2014.
Thanks to Online Movie Coupon and Freebies2Deals for help compiling this list!