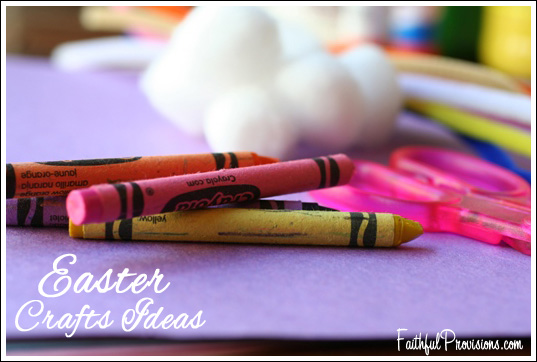 When it comes to Easter Crafts Ideas, don't think you have to be born with a glue gun in your hand in order to be able to participate. And please don't think you have to be perfect! There is something so valuable to your peace of mind when it comes to working with your hands, creating Easter crafts with paper and glue or fabric and thread. It somehow provides an escape from anything else that might be on your mind, and you'll have lots of great Easter memories with your kids!
So, relax–we've got all kinds of easy Easter Crafts designs here at Faithful Provisions. You can make fun Easter projects with your kids and colorful spring decorations for your home. Settle in and spend some time browsing through our articles.
Easter Craft Ideas for Kids
You'll want to check out these Free Downloads to help you make some fun games and crafts with your family starting right now. You'll find printables for even the youngest ages, plus easy recipes to have some fun with your kids in the kitchen making edible crafts!
Easy Easter Crafts Ideas
If it's not easy, it's not all that fun, right? The hard part is getting everyone to cooperate, wait their turn, and be patient with me, LOL, so I'm always looking for easy Easter Crafts Ideas! Don't miss the links I have for you here:
Don't miss all the Easter Ideas on Faithful Provisions. This is an incredible season to enjoy with your family.