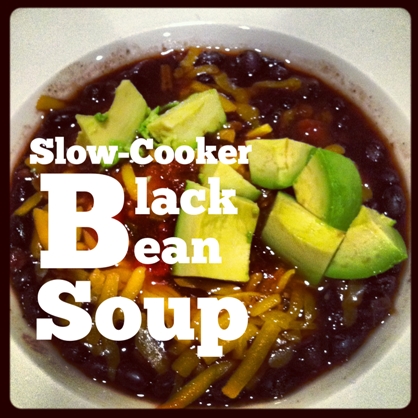 I was a little surprised by the reaction I got when I posted a picture of my easy Slow Cooker Black Bean Soup on my Faithful Provisions Facebook page last week. Everybody wanted this recipe!
*Scroll down to use print recipe feature and add to your Recipe Box.
What's so much fun for me is that I get to share a recipe with you that is so easy that it's almost too good to be true. I love it when a delicious dinner is as simple as this one. I am a huge fan of Mexican flavors, and I'm definitely a soup lover, and I would have to say that black beans are probably my favorite bean to cook with, so this recipe is going on my list of favorites for all those reasons. The flexibility that you have with the toppings means you can personalize this recipe. And, you can decide how much spicy heat you want to add. My kids will eat this going a little heavy on the cheese, but my husband and I will add more hot, spicy salsa to ours.
Now, it might surprise you to see that you don't have to pre-soak your beans for this recipe. That's a step you can leave out. You will still need to sort and rinse them, however, but then just pour them in your slow cooker.
Slow Cooker Black Bean Soup
Ingredients
2 cups dried black beans, sorted and rinsed
5-6 cups water
1 onion diced or sliced
1 jar your favorite salsa or a can of diced tomatoes with chiles
Instructions
Combine ingredients in slow cooker.
Cook on low for 8-10 hours.
Top with your favorite toppings. I like fresh avocado, salsa, shredded sharp cheddar cheese, and even a dollop of sour cream.
You might also like:
Recipe developed by Kelly Hancock ©2013 Faithful Provisions. For personal use only. May not be reproduced, reprinted or distributed for capital gain without prior permission from Kelly Hancock.