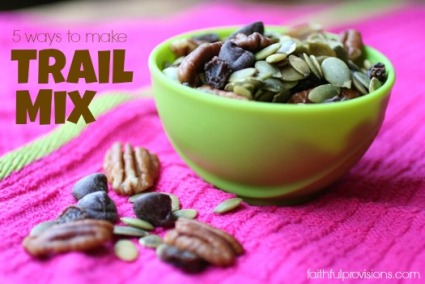 An easy trail mix recipe that can be quickly adapted to what you have on hand in your pantry starts right here. Are you:
Packing lunch boxes?
Looking for an after school snack?
Searching for a pre-game, carb-rich boost for your budding athlete?
Needing to get your munch on during family movie night?
*Scroll down to use print recipe feature and add to your Recipe Box.
Homemade Trail Mix
It's a good idea to have a few recipes for homemade trail mix on hand. Learning how to make trail mix for your kiddos provides a healthy alternative to sugary snacks or even many pre-made "health" foods which are laden with preservatives and sodium. An easy trail mix is not only my favorite snack, but now both of my kids count it as one of their favorites too.
My son has always loved anything with nuts, but my daughter has been a bit more of a challenge. The other day, I offered to make her a trail mix to take to her soccer practice. This recipe for trail mix included dark chocolate as a mix-in.
She said yes.
She tasted it.
Then she ate the whole thing!
We keep trail mix in our house at all times. I have little snack bags filled and ready to go in their "snack bin" in the pantry.
Here are a few of my favorite combinations:
Energy Trail Mix (Pre-Game Style)
1 cup pecans
1 cup craisins/raisins
1 cup pumpkin seeds
1 cup dark chocolate chips
Nut-Free Trail Mix
1 cup pretzels
1 cup dark chocolate chips
1 cup craisins/raisins
1 cup popcorn (try my Homemade Popcorn)
Classic Trail Mix
1 cup almonds
1 cup cranberries
1 cup walnuts
1 cup cashews
1 cup pumpkin seeds
1 cup raisins
1 cup banana chips
Savory Trail Mix
1 cup sesame sticks
1 cup Chex mis
1 cup peanuts
4 tablespoons Braggs organic seasoning (or 4 tablespoons organic tamari or Bragg liquid aminos)
1 teaspoon garlic powder
3 teaspoons onion powder
1/4 – 1 teaspoon cayenne pepper (1/4 teaspoon will be mild…1 teaspoon will be spicy!)
Storing the Trail Mix: Seal in an airtight container for up to one month.
Create your own trail mix combining these ingredients in your own creative way:
Dried: apricots, cranberries, raisins, pineapple, ginger, cherries, banana chips
Nuts: Sunflower seeds, pumpkin seeds, almonds, walnuts, pecans, cashews, soy nuts, pistachios
Extras: Dark chocolate chips, granola, M&Ms, yogurt chips, carob chips, sesame sticks, roasted peas, Chex mix
Check out my family's all time favorite trail mix recipe: Almond Joy Trail Mix.