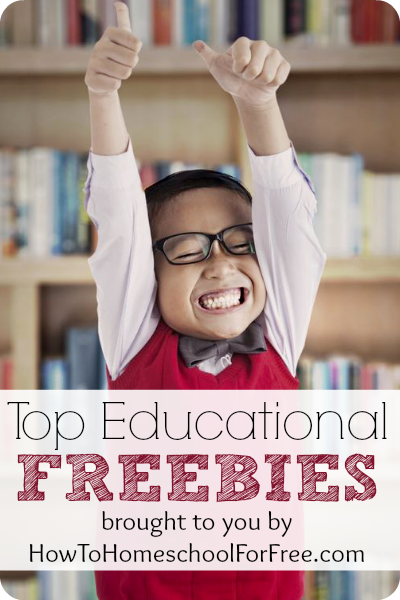 Educational Freebies For Homeschoolers
Here are some Educational Freebies available this week. These are great resources if you are a homeschooler. Just click on the link to download or print the freebie.
Supercharged ScienceHomeschool Science Lessons & Step-by-step Videos – 5 Fun Experiments + How To Teach Science Guide (K – 12th grade experiments)
Free Kindle Books For Children – The top 100 completely FREE Kindle Books for kids!
Learn the Months & Seasons Free Charts & Worksheets – 16 page download
Unit Study for Teaching Children About The Five Senses
FREE Minecraft Multiplication Flashcards
Free Food & Nutrition Unit Study – 21 page study with book ideas, learning activities, worksheets, and more!
HUGE list of Unit Study Resources for Black History Month
St. Patrick's Day Cut and Color or Winter Fun Cut And Color Math and Literacy for Kindergarten
FREE "Meet The Masters" Art Appreciation Curriculum – 250 pages art history and appreciation program for elementary age students
Olympic Games Activities – 8 activities to celebrate the winter olympics
Multiplication Practice – Online self-correcting multiplication quizzes
Free Guitar Videos – take guitar lessons online for FREE
Thanks, How to Homeschool For Free!