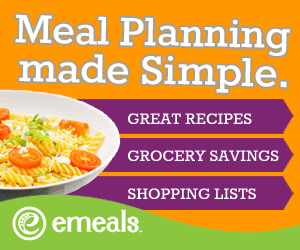 With Father's Day weekend right around the corner, this may be the perfect time to give eMeals a try! Right now, you can join eMeals for 15% off when you use the code DADS. Plus, every new member gets a FREE Father's Day Menu Plan, featuring:
Flank Steak with Parsley-Garlic Sauce
Buttery Grilled Corn
Portobello Mushrooms with Soy Sauce
and more!
To show you just how great eMeals recipes are, try the eMeals recipebelow for a Caramel-Brownie Chunk Milkshake as a part of your Father's Day menu. All the eMeals recipes are easy and delicious!
:: Head over to eMeals HERE to join–and remember to use the code DADS to save 15%!
eMeals Caramel Brownie Chunk Shake
Ingredients
½ cup milk
4 cups vanilla ice cream
3 store-bought or homemade brownies, chopped
Caramel or hot fudge topping (optional)
Instructions
Pour milk in blender.
Add ice cream. Blend until smooth.
Add half of brownies to blender. Pulse until brownies are blended.
Spoon into glasses. Drizzle with desired topping.
Top milkshakes with remaining brownie chunks.