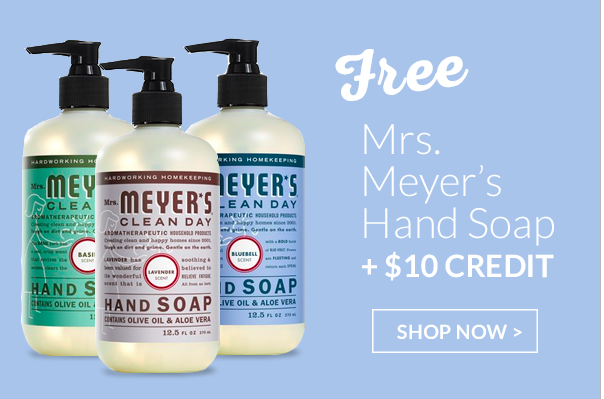 If you've not had a chance to try out ePantry yet, they are offering my readers a great deal this week — it's the perfect opportunity to give them a try! Plus, for every single person who orders, they are offering a FREE Mrs. Meyer's Hand Soap + a $10 Credit!
I absolutely love ePantry. Not only is it super easy to order, but their customer service is so helpful. I am very thankful for Crystal over at Money Saving Mom for introducing me to them!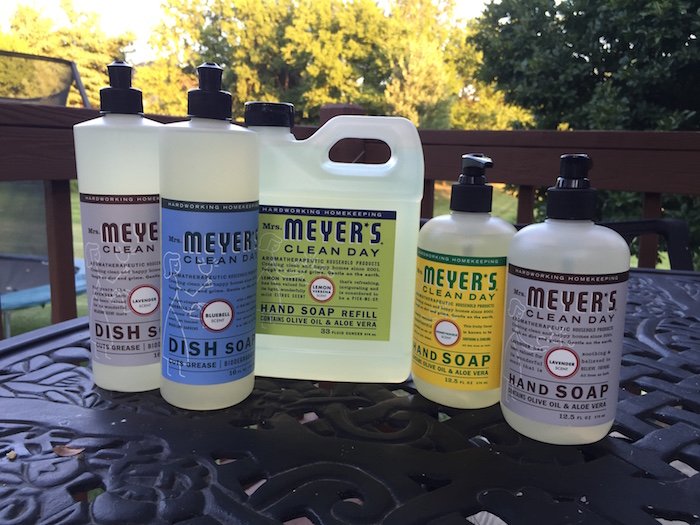 Mrs. Myer's is my favorite hand soap and dish detergent, can you tell by my order?! I like it so much, because it is all natural, but they have the most wonderful scents, better than any other brand, in my opinion.
How ePantry Works

ePantry is very similar to Amazon's Subscribe & Save Program.  Here's how it works:

1. Sign up for a new account with ePantry through this link. You'll get a free $10 credit + a FREE Mrs. Myers Hand Soap with your order. This is for everyone who signs up through my referral link! This is an exclusive offer for my readers that is only available through August 31, 2015.

2. Answer a few quick questions about your home, cleaning schedule and favorite products (takes about one minute to complete).

3. Once you've answered the questions, you'll have the option for them to put together a box for you or you can pick your own products for your box. I'd recommend picking your own products so you can get the best deal and only buy those things you know your family will use.

4. To get $10 off + a FREE Mrs. Myers Hand Soap, your order needs to be at least $20 total. This minimum is only on first time orders.

5. Once you have filled your basket, click Finish & Pay. Your free hand soap and $10 credit will already be included.
Tip: Look for the pop-up chat box that says, "Any fun plans for the summer? Tell us and earn $2 at ePantry." You'll get an additional $2 off with this offer!
Get 8 Items for just $2.27 Each Shipped! 
Here is a sample cart to get these items for just $2.27 each after freebies with my referral link…
2 Method Foaming Hand Soaps
2 Mrs. Meyers Hand Soaps
2 Mrs. Myers Dish Soap
1 Mrs. Meyers Hand Soap – FREE with my referral link
Total After $10 Credit + Free Hand Soap:  $23.62 — which is just $2.27/each!!
Note: If you want to continue receiving shipments, you can choose when and what you want to receive. You will receive an email 7 days before your next shipment is supposed to go out. At this point you can either edit your order or choose to cancel your subscription.