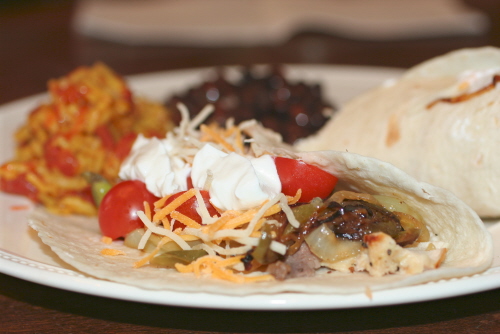 I love to make fajitas when I have lots of peppers and onions, well — anytime really.  My favorite way to serve them is light and fresh.  My favorite ingredient is fresh limes. I don't like to load them up with lots of heavy ingredients. But you can add any of your favorite ones.  Here are some ideas for toppings:
Fajitas
Meat
Flank steak
Grilled Chicken
Marinate meat in favorite meat marinade like lemon pepper salt,  greek marinade or just a fajita seasoning.  Grill and slice.
Peppers and Onions
1 large pepper, sliced
1 large onion, sliced
Saute in large pan with olive oil until softened.  Sprinkle with favorite seasonings or just salt and pepper.
Serve in tortillas and top with some of your favorite toppings like the ones above.
Print Recipe: Click on the green "print friendly" icon at the bottom of this post, and check "remove images" for a printable version.
Recipe developed by Kelly Hancock ©2010 Faithful Provisions. For personal use only. May not be reproduced, reprinted or distributed for capital gain without prior permission from Kelly Hancock.