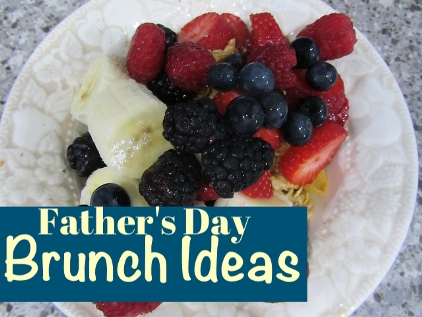 What is brunch but a blending of breakfast and lunch? Father's Day Brunch ideas include all Dad's favorite breakfast foods that are hearty and delicious–plus a few surprises that you may not have thought of as brunch items. I've got ideas below for treating Dad to a buffet spread with foods you can make ahead and easily warm up. A second option below is for an outdoor brunch that gets your grill going.
Brunch Ideas for a Crowd
Spread a beautiful buffet with these brunch ideas for a crowd. Whether you're celebrating with family or friends, you can keep things simple with these easy recipes that will make brunch the best meal of Father's Day.
Father's Day Brunch Menu Plan (Indoors) – These are standard favorites for brunch The sausage balls and hashbrown casserole can easily be made ahead and frozen. I make the egg salad the night before as well. This allows it to chill thoroughly in the fridge overnight. The only thing on this list that I would make the morning of would be the biscuits and my grandmother's recipe for Chocolate Gravy, which is best served immediately. Yum!
Enjoying a Father's Day breakfast? Find ideas for your Father's Day Breakfast Menu HERE.
Father's Day Brunch Menu Plan (Outdoors) – Fire up the grill for thick slices of grilled bacon. Then turn your outdoor brunch into a real Father's Day party with healthy, fun beverages too.
Find ideas for your Father's Day lunch HERE on Faithful Provisions!