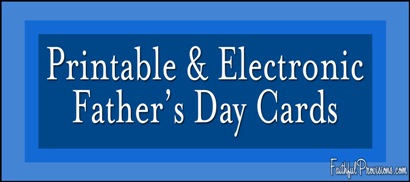 I think every dad loves receiving Father's Day cards. Printable and eCard options are everywhere, with so many ways to go about creating a very personal and loving Father's Day card that is custom-made.
You might be asking, But can you really do that with a printable card? Or even an eCard? Is that really going to have the personal touch that you want? I think yes, absolutely, you can still put together something personal, even if you are using printable cards. You can still create a keepsake.
Printable Cards for Daddy
Printable cards for Daddy from your children can actually be tailor-made when you use this funny printable card that reads like a questionnaire. Your kids can fill it out themselves, or you can help by filling in the blanks for them. Questions like "My Daddy likes to wear…." and "My Daddy is …… years old" offer up surprising answers from the little ones!
You can find two free printable cards for Dad HERE from Broadman and Holman Publishers. These are great to print out for your family or even a preschool group or older children's group. There are two styles of cards to choose from.
Father's Day Cards for Kids to Make
There are several ways to come up with Father's Day cards for Kids to make. You can take any printable and these ways to make it a special. Kids can put their unique personality on a printable card and make it custom-fit the dad they love by simply adding extra touches, such as mounting onto construction paper, adding glitter, or presenting it with style. Older kids and teens can use quotes to make funny Father's Day cards that Dad will get a kick out of.
:: Be sure to see more creative ideas for Father's Day cards HERE.
If Dad has an iPad or iPhone, he's going to love receiving eCards too. Here are two of my favorite eCard sites.
Do you know what day Father's Day is this year?  It's coming up!