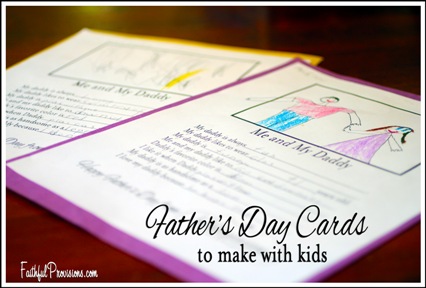 I am always looking for easy Father's Day cards to make with the kids. My favorite types of cards to make are the ones that are the most convenient, which usually consists of a free Father's Day printable. I love these because I can take one and turn it into a really nice, customized card using what I have on hand.
Below are several great Father's Day card ideas for you using this funny printable card for Dad that I made from a kids' Sunday school questionnaire.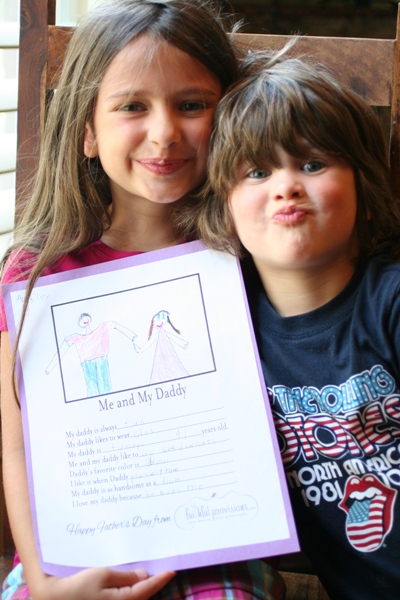 Simple Father's Day Cards

If you are trying to find simple Father's Day cards at the last minute, all you need to do is print this out and let the kids color it. Just give the kids a box of crayons, and while they are creating their self-portrait ask them the questions, filling in the blanks on the questionnaire. Then you can simply hand it off to Dad.
If you have a little more time, once the kids have finished coloring and filling in the blanks, roll the printable up and tie it with a piece of leather string or raffia. (Think male, no fru-fru colors here!) If you have a box of crafting ribbon and strings around, pick out the colors he likes.  I'd go with browns, blues, greens, or combinations of these to give it a special touch. I usually find ribbon, yard, string, leather, twine, and other crafty supplies in the clearance section of my local craft store (like Joann's or Michaels).
Personalized Father's Day Cards
For more personalized Father's Day cards, you can take this downloadable questionnaire and really make it a quality keepsake.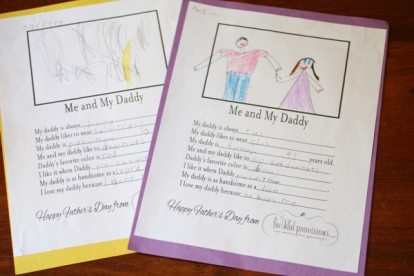 Once you have filled out the questionnaire, mount it onto construction paper.  Just pick a manly color of construction paper (my son liked the yellow, my daughter chose…purple!) and paste it on top. All done!  And this will look good enough to put inside a little 8.5 x 11 frame.  These I often find at the craft store when they do their 50% off sales. You can often find this size on sale as "document frames" at your office supply store. Or even better, hit your local thrift store and get one for around $1 or less.
Another idea is to jazz it up, adding stickers and glitter. Just have the kids put their personality and touches to make it obvious to Dad that it is from them! My kiddos love anything with stickers, glitter…any kinds of crafts. So I give them the craft box and let them have at it. I tell them to dress it up and make it the best they can, showing lots of love and care for Daddy.
:: Older kids and teens might like making one of these funny Father's Day cards on their own.
Kids can make a big card for Dad out of file folder. Mount the printable by simply pasting it into a file folder, then let the kids decorate the outside. Use real photos of Dad by printing out shots from your Facebook pages. Or see if Grandma has a few pictures you can copy to use from when Daddy was a little boy. If you don't want to use photos, decorate the outside by cutting out words that describe Daddy from newspapers and magazines. The file folder will not only protect your children's work, but it makes for a much sturdier card that can take a lot of handling as he proudly passes it around for everyone to see. This would be really cute to put in a Father's Day photo book or scrap book!
So, you have tons of ideas for Father's Day cards here. Which one is your favorite?
Find lots more cards for Father's Day, printable and eCards, on Faithful Provisions.