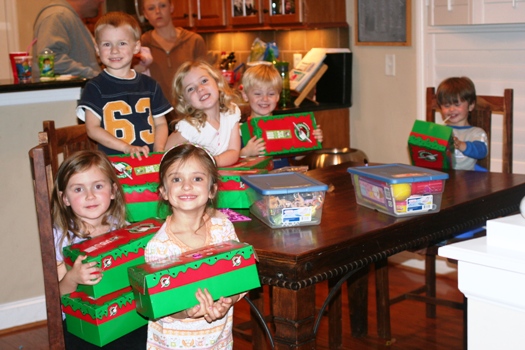 Last week I told you about a wonderful opportunity to bless children in another country in need and tell them about Jesus. And the other perk…showing your children servanthood. Inviting them in to participate and experience giving. See those kids above, they all got to fill shoe boxes for a child in need, and it was so fun to see them get excited about packing a box for another child.
I think my son's favorite part was stacking the boxes, over and over again!
How better to teach our children, than by learning through experience? Think of the things you learned and never forgot.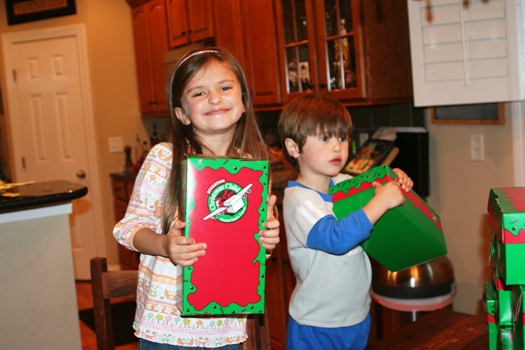 Usually those memories come from an activity that ingrained it on your heart. My hope is that is what will happen for my children. That this opportunity to serve, will plant a seed for a heart to help others in need.
We had some friends over last weekend for a Shoebox Filling Party. The table was absolutely packed with all the items for the boxes.  We set up an assembly line with girls and boys items and then the kids went to town filling their boxes.  We ended up filling around eleven boxes.
Checkout our video below and have your own. I would love for you to have one and video it too.

Here are some ideas that have been shared to fill shoeboxes that the children love.  The suggestion is to fill the boxes with half fun items, but also necessary items.
If you can fill a plastic size shoe box to send, they can also use it to carry water from the well, and other needs in their station in life.
November 15th is the first day to drop off boxes, and the deadline is November 22nd. You can find a location near you to drop off your boxes, and you can also prepay your postage which is just $7 and tape it to the box, ready to go!
Once you prepay your postage, you will be given a tracking number and you can track your box to see which country receives it.
Have fun filling your shoeboxes!