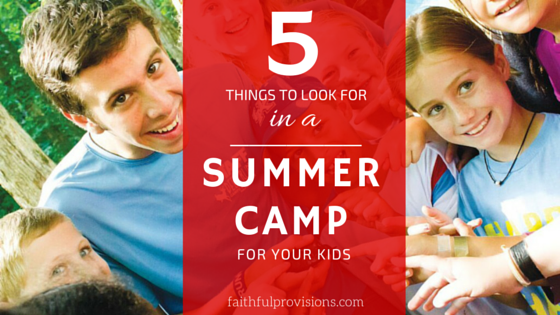 One of the hardest decisions to make is which camp to let my kids attend in the summer. There are so many  great summer camp options in our area. But, we can't do them all and we have to make a choice, and I make a choice in a camp which will take both of my kids and one they will both enjoy. Having a boy and a girl, this can sometimes get tricky. So here are five things I look for or use to evaluate which camp we will attend.
1. Activities that match your kids interest. I like to find activities that my kids love and fuel that passion in them. Whether it is an art camp, outdoor, horse camp or sports camp, I think it is so important to allow them to follow in the way they are bent and where their interest lies.
2. Local feel and close to home for Mom. This is key for me, especially with younger campers. My choice at this stage in life is a day camp that isn't too far from home and takes them for most of the day.
3. Good Instruction / Programming. I don't know about you, but if I am going to pay for my kids to be at a camp for a week, I want to make sure the instruction is good and they keep them busy with fun activities.
4. Credited Counselors. If these camp counselors are going to be with my children every day for a week (or more) I want to make sure that they are not only accredited, but that they are a safe place and good example for my kids to look up to. My daughter still talks about camp counselors from years past and they make a lasting impression. I want that impression to be a great one!
5. Awesome Facilities/Grounds. While counselors are very important, it is also great to make sure that the facilities or the grounds that house the camp support the overall theme and activities the kids will be experiencing. This can be a game changer.
All these reasons are why we decided to send our kids to Deer Run Camps & Retreats this year! Every single criteria above fits our needs at Deer Run. But, of all the things that we consider when picking a camp, the absolutely, hands down most important one for us is the camp counselors. Watch the video below and you will see exactly what I mean.
If you are in the Nashville/Middle Tennessee area, Deer Run Camps & Retreat Center is a great option and they still have a few openings for their summer family, day, and overnight camps. But if you already have summer plans, then be sure to checkout all the other fabulous events they host. You will find everything from Mother/Daughter Weekends, Father/Son Weekends and even Couples Getaways. You can see all their retreat activities here.
::  To sign up for a summer camp at Deer Run go here.
Deer Run Retreat Discount Codes
Here are two codes the kind people over at Deer Run offered my readers as a discount on their summer camps.
At checkout use these codes for:
DR15CAMP10: $10 off day camps
DR15CAMP25: $25 off overnight camps
*These can be used in addition to the multi-camp or sibling discount and are applied in the cart to the balance.
What is your favorite summer camp for kids?