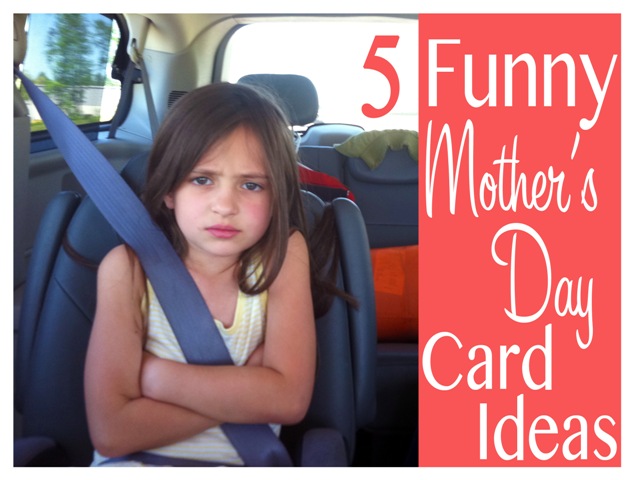 Isn't it funny how kids' punishments look pretty good to us as adults? I'd love to go to bed early or get sent to my room! In fact, that sounds like some pretty funny Mother's Day cards ideas! One of these is sure to fit your budget, because several of them won't cost you anything. Check out my ideas below.
1. Time Out for Mom
Gift Idea: How about Time Out for Mom with a gift card to a spa or salon?
Photo Idea: On the front of the Mother's Day card, stage your child sitting in the corner or wherever she/he normally goes for "time out."
2. Buckle Up and Stay in Your Seat

Gift Idea: Take Mom out for an evening of surprises. Choose her favorite restaurant, then take her to her favorite type of movie, show, or museum event. She doesn't have to do any planning at all. All she has to do is "buckle up and stay in her seat."
Photo Idea: I like the one above of my daughter. Get one of your kids in the car scowling!
3. Mom is Grounded
Gift Idea: A day at home alone for Mom. She can putter around, read, relax, watch movies, or take a bubble bath. She'll enjoy the peace and quiet in her own space.
Photo Idea: Tween with arms crossed and scowling face, sitting on bed.
4. Mom Can't Get Up until She Cleans her Plate
Gift Idea: One week of Mom staying at the table until she is finished eating. That means hubby and kids serve themselves or each other. At the end of the meal, Mom is excused from kitchen duty.
Photo Idea: Picky eater sitting at table, face scrunched up as though she/he has tasted something terrible.
5. Mom Has to Go to Bed Early
Gift Idea: Mom has the evening off and gets to go to bed early. Older kids can make sure her sheets are freshly laundered. (Chocolate on the pillow would be a nice touch.) Add bath goodies and thick thirsty towels for Mom's bath, and maybe a good bedtime read. See our Free eBooks HERE.
Photo Idea: Kid in pj's and in bed, with pouty face and lip sticking out.
You can do even more with your funny Mother's Day cards ideas by adding these funny Mother's Day quotes HERE for your homemade cards.