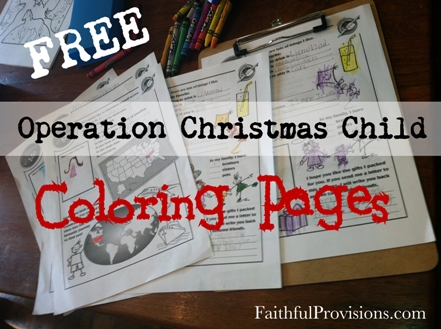 Did you know you can download FREE coloring pages for Christmas shoeboxes for kids? Filling out these pages is a great way for your children to discover and process what is going on when they participate in the Operation Christmas Child shoebox ministry. My children love the printables that Samaritan's Purse offers free on the OCC website (find a link at the bottom of this post).
Check out my FREE printable listing of 101 Ideas for your OCC Shoebox–all items have been approved by Operation Christmas Child and Samaritan's Purse!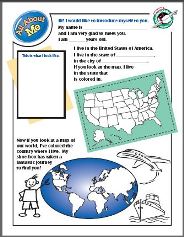 My kids love the "About Me" pages because they make it a little easier to think of something to tell the child who will be receiving your box. Coloring this page gives children time to process and think about the fact that their packed shoebox will be making quite a journey to get to its recipient. And as they talk about their family and where they live, it helps them understand that the child who is receiving the gift lives in a much different place. But at the same time, that child is like them in so many ways. They have a family too–brothers and sisters and friends.
God has given us two hands, one to receive with and the other to give with. ~Billy Graham
There are many other FREE downloads available on the Samaritan's Purse website. There are many resources that are great for your church or group that is doing Operation Christmas Child Shoeboxes together. Children love to color, and it is a craft activity that still allows you time to talk and discuss things.

– Use the printable of an empty shoebox to talk about the items that you want to put in your box. Cut out pictures from magazines and glue them on this picture or simply have the children draw the pictures of things they want to send inside the box.
– Color the printable of the full shoebox together while you talk about how much the children
will enjoy receiving their presents. Encourage children to think about how much fun it is to give presents and see the joy that gifts bring to others.
– Talk about how Jesus is God's gift to us, and the greatest gift of all.
I especially like the "Certificate of Appreciation" that is available.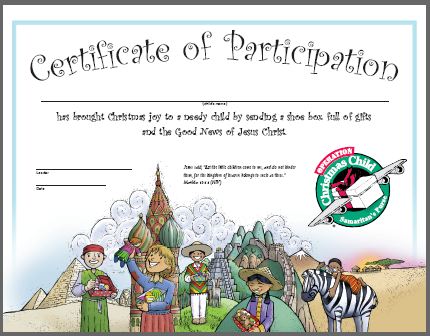 It reads that the person who receives the certificate has "brought joy to a needy child by sending a shoe box full of gifts and the Good News of Jesus Christ." That's what it is all about.
Be sure you use all the space in your box with the great shoebox packing tips I have HERE.
:: Find all the FREE Operation Christmas Child downloads HERE.
See what it was like for me to experience the blessing of going to Ecuador and distributing these Christmas boxes for children HERE.