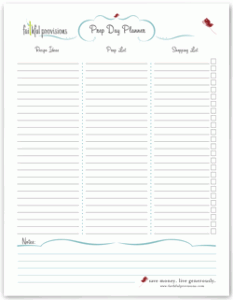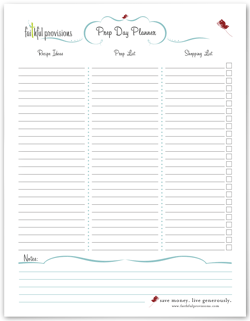 Here is one  more planner template to add to your arsenal of free tools when working in your kitchen.  Head over and download the Free Faithful Provisions Prep Day Planner.  There are a few different ways you can use this planner. I use it anytime I am going to do more than one recipe at a time or on a Kitchen Prep Day that I want to run smoothly.
This planner is great to aid in planning parties, family get togethers or holiday meals. If you are planning on having a group over for Easter, use this to keep you on track. It has 4 fields to help you out and here is how I suggest using them.
Recipe Ideas – List all the recipes you would like to make.
Prep List – Make a comprehensive list of all the tasks you will need to accomplish and in what order. i.e.) chop onions, make dough,etc.
Shopping List – Ingredients you do not have on hand for suggested recipes.
Notes – This is for any additional information you don't want to forget.
Download it and let me know what you think!
Be sure to checkout all the Free Downloads on Faithful Provisions.