Free Shipping Day
Free Shipping Day is today, December 18, 2013. This is a one-day shopping event during which participating merchants offer Free Shipping with delivery by Christmas Eve! There's no minimum purchase amount & several stores are even offering coupon codes for extra savings! There are over 900+ merchants participating in Free Shipping Day this year, including some eBay & Etsy Shops!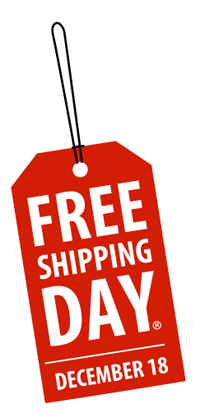 There are 930 merchants participating this year. See the complete list HERE.
When you're shopping online, be sure to go through a cash back site. New to cash back sites? Read How to Save More Money Using Cash Back Sites.