Whew! That was a productive last two days for me…as far as cooking goes.  Be sure to check out the progress I made yesterday during Day 1 of My Christmas Baking Day.  I want to thank you for being patient with me in my lack of posts, but I'll catchup tonight and tomorrow.  I hope to have the normal Publix and Harris Teeter posts up by tomorrow morning sometime.
I have to say, it is so nice to have almost all of our Homemade Christmas gifts done.  I ran out of powdered milk, so I will have to finish up my Hot Cocoa Mix tomorrow. Here is my little helper mixing up the first batches of drink mixes with me.
I learned a big lesson, cooking ahead is so worth it, but I need to be well planned.  I had determined what I was going to use, but I need to count out every ingredient to make sure I have enough to get me through.  I ran out of quite a few things which meant I paid a little more for my last minute purchases for things like vanilla, eggs, milk and flour.  Yes, I ran out of the basics!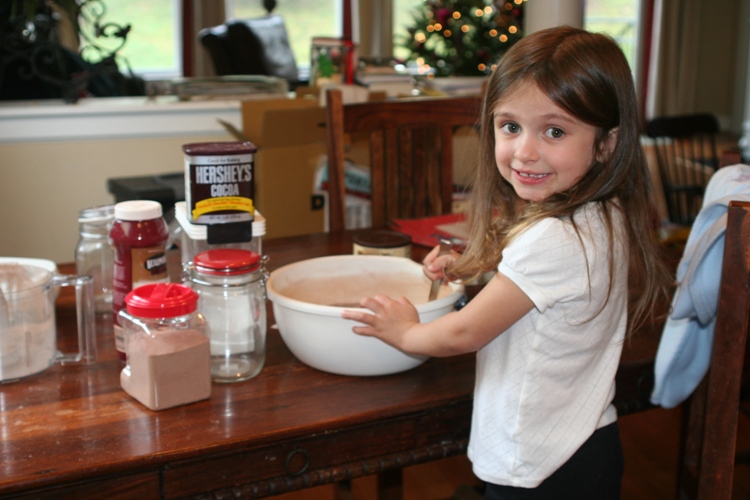 The only big item I didn't get done were the cookies. I will plan that one day next week and let you see what I am up to! Here is my final list and a picture of the fruits of my labor. I did dishes at least three times today, and hubs is cleaning up from dinner now! I have plenty of pictures to go along with the recipes for my items below.  Keep an eye out for those in the next few days.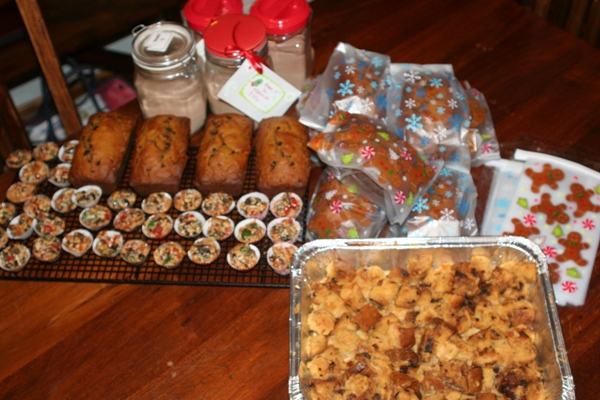 My Completed List:
*recipes to come!
Panetonne Bread Pudding
3 Batches of Pumpkin Chocolate Chip Bread
2 Batches Hot Cocoa Mix
Candied Fruit Treats
Creamy Chocolate Fudge
This was all inspired by Money Saving Mom's Baking Day with Life As Mom, so be sure to check her post here with lots of links from participants!
So, how did your baking day go? Want to get ahead of the Christmas rush, and have it all done? Be sure to leave a comment with any great ideas, progress and recipes. If you have a post and want to link to your favorite recipes or your baking day, please leave it below.
<>