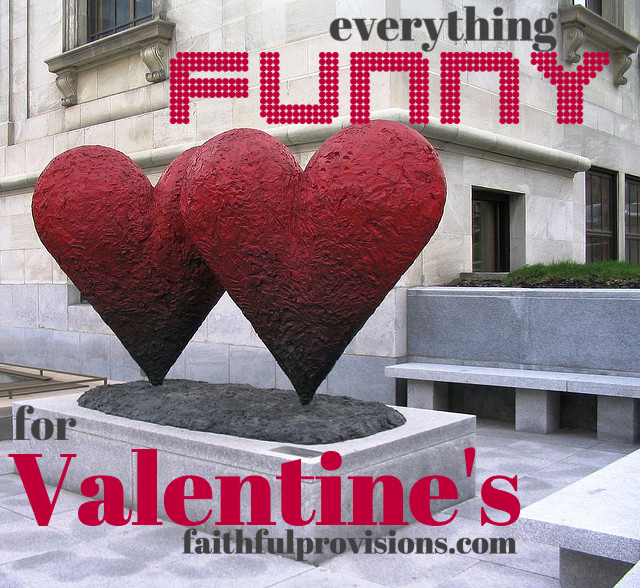 If you're looking for funny Valentines, we've got you covered here at Faithful Provisions. We've got funny quotes for your Valentines, funny poems that you can share with your kids, and funny Valentine's cards that run the gamut from a few you can make yourself and some you can personalize and order online.
One of the first things that attracted me to my husband (besides his boyish charm and irresistible good looks!), was the fact that he could make me laugh. I think that laughter is a huge element of love, because finding someone you can laugh with, who shares your sense of humor and whose smile you want to look at forever, means you've found a good match, right? So we've tried to provide you with a funny look at this holiday and at love and all the crazy things we do when we're in it!
Funny Quotes for Valentines
These funny quotes for Valentines come from famous people, authors, celebrities, and comedians. You'll find great quotes that are funny for your Facebook status, your Twitter updates, and even funny things to write on the mirror or leave on a note inside a certain someone's briefcase. Check out these Funny Valentine's Quotes HERE.
Funny Poems for Valentines
We've got some really creative, funny poems for Valentines that you'll love sharing with your kids. Valentine's poems aren't exactly poetic genius. They are meant to be as silly, cheesy, and goofy as they can be. After reading ours, you might even find some inspiration for writing your own! Find 5 Funny Valentine's Poems HERE.
Funny Valentine Cards
From boxed Valentines (Snoopy? Linus? Larry the Cucumber?), to Valentine eCards, to some great humorous Valentine cards ideas that you can make, you'll discover a round up of all kinds of funny Valentine cards HERE.
Happy Valentine's Day from Faithful Provisions! Find everything you need for all things Valentine on our Valentines Page HERE.
Photo Source