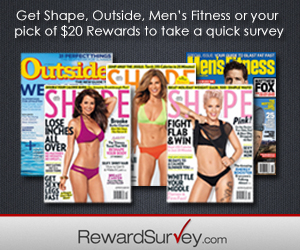 Get a FREE Magazine Subscription of Your Choice
You can get a FREE Magazine Subscription of your choice from Reward Survey – including favorites like Men's Fitness, Shape & Outside!  Simply head on over to Rewards Survey to register, take a quick survey & get up to $20 in Rewards.
Use your rewards to get one of these subscriptions:
$10 Reward Points
Inc. Magazine – 10 Issues
Fast Company – 10 Issues
Latina – 10 Issues
$15 Reward Points
$17 Reward Points
Poder Hispanic – 6 Issues
$20 Reward Points
AFAR – 7 Issues
Cigar Aficionado – 6 Issues
Men's Fitness – 10 Issues
PC World – 12 Issues
Shape – 24 Issues
Wine Spectator – 15 Issues
:: The favorite magazines typically run out fast, so hurry to get your FREE magazine today.  You can also check out the rest of the magazine deals currently available here.