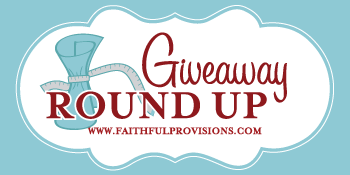 Welcome to my weekly Giveaway Round-Up linky! This linky is for bloggers to post their giveaways and readers to post giveaways they find, for everyone to see and have access to.
Enter to win all the giveaways listed below!
Looking for more places to list your giveaways? Checkout my Giveaway Linky List of sites that host weekly giveaway links.
Winners of the Financial Peace, Jr. Giveaway are…
Amanda – ajunecoupons@
Amber – a_hybner@
Lois – ldkillion23@
Angie – angieaulg@
Brad – ricklefs01@
Amanda – famille_huggins@
Tami – konevalt27@
Leah – lamfam54@
Buffie – xstitchUT@
Don – don@
Current Giveaways:
=====================================
Have a giveaway going on or found a great one somewhere else on the web? If so, post the link below so that all the Faithful Provisions readers can easily find it. Be sure it's family-friendly and to make it easy to navigate by linking directly to your giveaway post. Links going to the homepage of your blog or any other part of your blog besides the direct link to your giveaway post will be deleted. Posts promoting affiliate and referral links will be deleted.
Tip: To make it easy to read, post your blog name and the item you are giving away in the link title. For example, Faithful Provisions – Starbucks Gift Pack