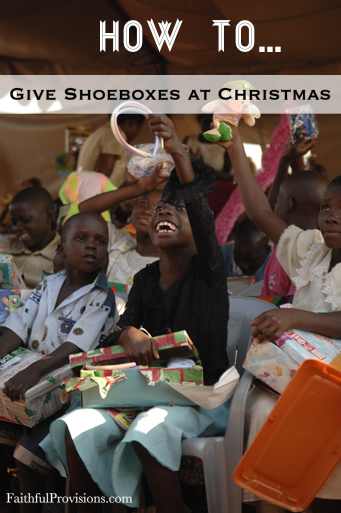 Giving shoeboxes for Christmas has become our family tradition and really, an ongoing project that we think about throughout the year. I love talking to people who are new to Operation Christmas Child because they typically underestimate the value that can be packed inside a plain old shoebox. They tend to think that a shoebox just can't hold much in the way of gifts for child, much less be anything to get excited about. As you can see from the picture above, they couldn't be more wrong.
Check out my FREE printable listing of 101 Ideas for Children's Christmas Shoeboxes HERE. These items are approved by Operation Christmas Child. Print copies for your church and school.
Christmas Shoeboxes
Christmas shoeboxes don't even have to be shoeboxes. Did you know that you can also use a plastic shoebox-sized container to send (you can find these at most dollar stores), as long as it has a removable lid. Children who receive a container like this not only get to enjoy the gifts inside, but they can also use the container for carrying water or for other needs in their station in life.
Christmas Shoebox Ideas
Christmas shoebox ideas are everywhere. (Find 5 unique Christmas shoebox ideas HERE.) We've been shopping all year long for items like these:
Hair bows, headbands, pretty ribbons
Cars, action figures
Hard candy
Shoes (flip flops are compact)
Pencils (send sharpener), pens and paper
Stickers
Enjoy a shoeboxes packing party with your children and their friends when you get together to see how many shoeboxes you can fill. It is suggested that you fill your shoebox with half fun items, and the other half necessary items. At first, your children may not understand why a new toothbrush, comb, or a pack of pencils might be considered a gift. After all, those everyday items are always available to them. But that's where we get to enlarge our children's view of the world. That's where we get to step in an share with them about other people and other places. You'll be thankful to see the gratitude, compassion, and thoughtfulness that will develop in your child from participating in this project.
Have fun filling your shoeboxes! Enjoy these free printable shoebox coloring pages that you can use to help explain to your children what Operation Christmas Child is all about.