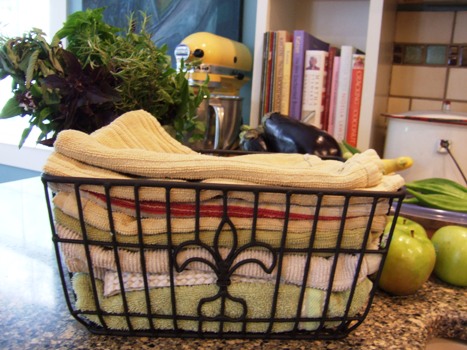 Guest Post by Liz Jenkins of A Fresh Space
About 8 months ago, our household went paperless in the kitchen.   It's been way easier than I thought it would be, and I've saved a bunch of money because I haven't bought any paper towels or paper napkins in that entire time, and I'm not planning on purchasing any in the future.
We took a three pronged approach based on our paper usage.  I looked at how we were using the paper products:  drying our hands and occasional dishes, wiping down the counters, and at the dinner table.  So these were the areas I needed to address.  Being a Professional Organizer, I tend to get all analytical this way.  I've done the work for you . . .
Area 1:  Cleaning
Create a rag bin with your favorite cleanser.  Store it wherever you keep your kitchen cleaning supplies.  I keep mine under the sink.  It's just a wire bin I had laying around. It's full of rags (I don't bother folding them) and my green cleaning solution spray bottle.
Area 2:  Hand & Dish Drying
Place a basket on the counter, or choose a drawer in the kitchen, in which to store dish towels.  I stocked up from thrift shops, on sale, wherever.  For our family of 3, I have about 20.  We go through a couple a day and then I throw them in the wash.  I keep one towel near the sink, and one over by the stove & kitchen prep area.
Area 3:  Napkins
Set a basket of cloth napkins (here's the important part) WHERE YOU EAT.  Not in another room, or in a drawer.  They will be forgotten and it will become a pain.  I got half my cloth napkins at an antique sale at Graceworks, and the rest at Our Thrift Store, both here in Franklin.  I have ours right on the table where we can grab them when we set the table.
The biggest adjustment was the drying of hands.  The paper towel holder is right next to the sink attached to the underside of the cabinet.  So easy to grab.  I leave it empty now.  This baffles our daughter's friends when they come over.  There's a clean, dry dish towel right in front of them and they stand there with dripping hands asking what to do!  But now they all get it.
Just toss them in the laundry with whatever you are washing and you are good to go!
::  Read more articles in our Healthy Living Series.
About Liz Jenkins of A Fresh Space
Liz Jenkins, Professional Organizer and owner of A Fresh Space, organizes families and businesses in and around Franklin, TN.  Helping people streamline, downsize and rightsize their lives comes naturally to this former teacher and business owner.  Living and loving a 'crunchy granola' lifestyle, her favorite things are family & friends, books, art, good food & wine, green living, and her label maker.  Sign up for Liz's email newsletter tips, or follow her on her blog, and on Facebook or Twitter.