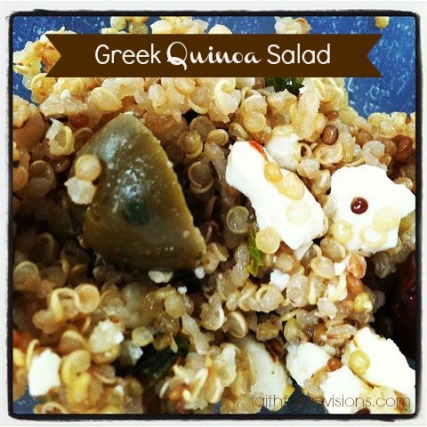 I love creating new dishes with quinoa. This Greek Quinoa Salad combines some of my favorite flavors, and that's really one of the things I love about working with quinoa. Because it has a very mild flavor on its own, whatever spices and other ingredients you use to flavor it go a long way.
*Scroll down to use print recipe feature and add to your Recipe Box.
Quinoa for Healthy Recipes
Quinoa is one of my favorite healthy foods. Many people call it a superfood because of its amazing health benefits. It's rich in fiber, so it's great for the cardiovascular system. It contains all the essential amino acids and it's rich in iron too. There are many more things it's known for as well, and I love it for all those reasons, but I also love working with it because it tastes great! It's the perfect fit for lots of great recipes. Enjoy this recipe for Greek Quinoa Salad, and be sure to check out the other recipes below.
Greek Quinoa Salad
Ingredients
1 cup quinoa
1½ cups chicken broth
2 garlic cloves, minced
1 tablespoon olive oil
2 stalks celery hearts, diced
½ onion, diced
4 cups spinach, rough chopped
½ cup olives, rough chopped
1 cup feta cheese
¼ cup Greek dressing
Instructions
In a medium saucepan over medium heat, toast dry quinoa in a pan for 3-5 minutes. Once it starts popping, it is toasting, so be sure to stir constantly so it does not burn.
Add chicken broth, turn heat to high and bring to a boil. Once boiling, reduce to a simmer, cover and cook for 18-20 minutes.
While quinoa is cooking, in a separate saute pan, heat oil over medium heat. Add garlic, celery, and onions. Cook until translucent.
Add spinach and toss until wilted. Remove from heat.
When quinoa is done, take a fork and fluff. All liquid should be gone.
Add spinach mixture and toss gently.
If you serve hot: top with feta and olives before serving.
If you serve cold: Once it is at room temperature (or cold), add feta and olives and toss gently until combined.
You might also like: