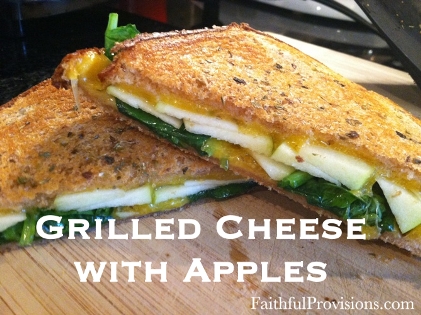 Let's take the classic grilled cheese sandwich up a notch by adding….apples! This is great for an easy, healthy lunch.
*Scroll down to use print recipe feature and add to your Recipe Box.
You've got a lot of options with these add-ins. I used apples because I had a lot of them on hand, but you could easily use pears if you wanted to, and that would be a delicious alternative. I've also upgraded this grilled cheese sandwich with some greens. Try spinach, arugula, or even lettuce.
The key to making this really tasty is pan grilling it with either olive oil or butter and accenting with a spice you might not have even considered: oregano. I sprinkle it on both the inside and outside of the bread. It adds a wonderful pop of flavor and gives this grilled cheese a gourmet flair.
Grilled Cheese with Apples
Ingredients
1 slice cheddar cheese
2 slices bread
Olive oil or butter
Oregano
A few spinach leaves (or arugula or lettuce)
Apple slices (sliced thin)
Instructions
Coat a small skillet with cooking spray to medium-low heat on the stove top.
Coat outside of bread slices with butter or olive oil. Add cheese, cover the cheese with apple slices, then add your greens.
Sprinkle a little oregano inside.
Place in heated skillet.
Sprinkle a little oregano on the top piece of bread while the bottom piece is cooking.
Cook for 2 minutes each side, or until bread is toasted on the outside and cheese is completely melted on the inside. Be careful not to burn the bread!
Recipe developed by Kelly Hancock ©2013 Faithful Provisions. For personal use only. May not be reproduced, reprinted or distributed for capital gain without prior permission from Kelly Hancock.