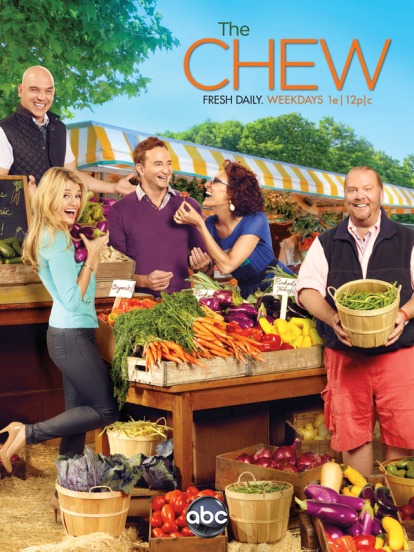 ABC's The Chew reminds me of what being in the kitchen is all about: good company and great food! I grew up in a family of lots of cooks, and when it came to meal time, everyone got in on the action. Spending time together in the kitchen preparing the meal was just as much fun as sitting down to the table to enjoy it together. When I watch "The Chew," I love all the wonderful recipes, but I also love all the fun they have being together. The show definitely celebrates food, but it also embraces what the kitchen is all about: friends and family.
Recently, Daphne made this Grilled Radicchio Salad (watch the video above), and it reminded me of how much I love grilled vegetables! Combining that wonderful grilled flavor along with my favorite dressings or freshly prepared vinaigrette is a taste exclusive to summertime. The Chew emphasizes the importance of making a recipe your own, according to your and your family's preferences, encouraging you to put your own spin on whatever they are creating. That's what I did with this recipe spinoff: Grilled Romaine Salad with Green Onions and Zucchini.
*Scroll down to use print recipe feature and add to your Recipe Box.
What I try to emphasize most is to use what you have, make adaptations where you can, and if you absolutely don't have it, then wait until the ingredients go on sale. My Grilled Romaine Salad recipe takes advantage of the vegetables that are in season and on sale right now at my grocer's, at the farmer's market, and in my own little garden.
TIP: If you've never grilled lettuce, don't be afraid to give it a try! Just be sure to cut a nice flat edge and grill it cut-side down.

As always, I want you to take my recipe and morph it to showcase your favorite veggies and what you find on sale. Recipes are usually pretty flexible. For example, even if you don't have any romaine lettuce, don't let that keep you from trying this. Use boc choy, endive, or radicchio like Daphne's recipe.
Grilled Romaine Salad with Green Onions and Zucchini
Ingredients
1 head Romaine lettuce, cut in half
1 large Zucchini, sliced lengthwise
Green onions (leave these whole)
Red peppers, cut into chunks
Olive Oil
Salt and pepper (to taste
Instructions
Put zucchini, green onions, and red peppers on grill first.
Cut romaine lettuce in half.
Drizzle with olive oil, salt and pepper to taste.
Wait until other veggies are almost done, then put romaine lettuce on grill last, cut side down.
Be sure the lettuce has some lovely char marks, but don't leave it on the grill too long. You don't want it to wilt completely.
Remove veggies from grill.
Use grilled Romaine as the base of the salad, add other veggies on top, everything grilled side up.
Chop onions before adding to salad.
Drizzle with your favorite salad dressing and serve.
 Great tasting Salad Dressings to try:
Watch this full-length episode of ABC's The Chew from Friday, July 19, 2013. (This episode features Amy Grant making a great Turtle Pie!) Then be sure to tune in to ABC to see The Chew every day, or get your Chew fix on HULU. I'd love to know what inspires you from this show and what great tips you're able to take away from it and put to use in your own kitchen!
I'm always looking for new ways to spice up my Summer dishes, and ABC's The Chew serves up everything from grilling and outdoor entertaining to road trips and picnics. Watch weekdays 1e|12p|c on ABC to see what celebrity chefs Mario Batali, Michael Symon, and Carla Hall, lifestyle expert Clinton Kelly and fresh face of healthy living Daphne Oz are dishing out to inspire you this Summer.
This is a sponsored conversation written by me on behalf of ABC's The Chew. The opinions and text are all mine.
This is a sponsored conversation written by me on behalf of ABC's The Chew. The opinions and text are all mine.