I find that doing these big sales events can be daunting.  Most bloggers pull together lists for you, so that part is done.  But there is a strategy around making the whole trip go smoothly.
Coupon Usage Tips
Here are a few things to know about how specific types of coupons will work on just about any trip, but especially triples and doubles events.
Store Coupons: Never double, always redeemed at face value.

Loadable Coupons: Also, never double, always redeemed at face value.  No need to do anything, they automatically come off on your receipt.  If not, call store to ask for Q value back.

Do Not Double or Triple:  Be sure to look for coupons that say "Do not double or triple" on them.  These typically are not doubled or tripled by the stores, especially during triples events.
Check Prices Online
Go to the Harris Teeter online grocery store called "Express Lane". You will use the "search" function to match sales and regular prices w/ possible coupon matchups to get items free or almost free. This does all the work BEFORE you hit the store. You will know exact prices for your stores products.
Utilize Higher Value Coupons
During these types of events, you need to utilize your higher value coupons, to maximize your savings.
So, During Triples, use coupons that value from $.55 – $.75, because these are also your higher value ones. Since most of my grocery stores double $.50 and under every day, I try to utilize the $.55 coupons, since I don't use them much and I have a lot of them.  Next, I search out the $.75 coupons.  I don't have as many, but those are the absolute best for this sales event.
For a Super Doubles event, try using only $1 – $2 off coupons.  Those are the most popular coupon values you will see.
How to Find the Coupons
1. You can use my Coupon Database to help you find specific coupons and values to pull.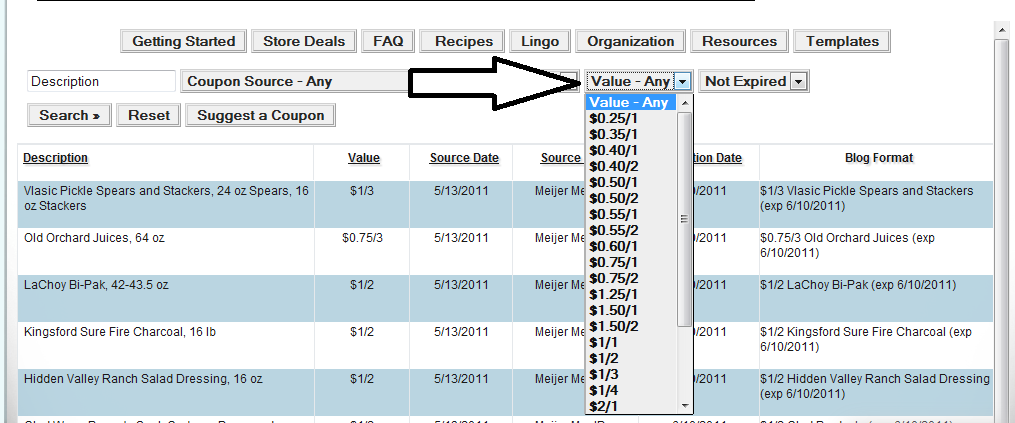 How to Easily Find High Value Coupons
Use the Faithful Provisions Coupon Database to help you find the high-value coupons for your trip. Here is how it works:
This will list coupons by source date (most recent first). If you want to get the ones that are close to expiring first, just click on "Source Date" and it will reorganize by farthest date.
2. Flip through inserts. You can get your coupons all together and sit in front of the computer. I usually just flip through my coupon inserts and the ones that look decent (usually at least $0.50 and up, but mostly my $0.75 coupons for Triples and $1 for Super Doubles) I type the name in the "search" field of the online grocery store link in #1, to see if the coupon is a good deal with their price.
Hint: This saves me TONS of time and hassle at the store, because all my work is done before I get there. Especially helpful if you have little ones with you!
How to Organize & Save Time
After you have clipped all items you are interested in, organize them two ways:
by priority – you can only use 20 per transaction/day, so this are the top ones I look for
by store layout -I usually start w/ produce, jams/peanut butters, meats, etc…, since they are the first things I come to in my store
Have a Back-Up Plan
Also, I have 2-3 stacks of 20 coupons paper clipped together.  If there are items not on the shelf (which there always are!) in my first 20, I start pulling from my 2nd 20, and so on. This prevents a lot of frustration for me at the store.
If my favorite items which are my first stack of 20 coupons are not available, then I just hit the second stack of 20. You will always have items out of stock, because any FREE items are the first to go.
Occupy the Kiddos
A friend of mine has to take her kids on her triples trips and she gave me a great idea.  She takes a portable DVD player with ear phones for her daughter to watch while she shops.  Or, take a book or some other item to keep your child occupied while you can think and shop! The main reason I mess up my trip is because I am not able to be focused on what I am purchasing, so if you can go alone, that is your best bet.
TIP : The great deals will probably be gone early, but be sure to ask your store when they will restock again before the weekend is over. Remember, there are no rain checks for Triples weekends!  Good luck!
Also, checkout my post here on 5 Tips to Maximize Savings During Store Sales Events for even more tips and strategies to save!