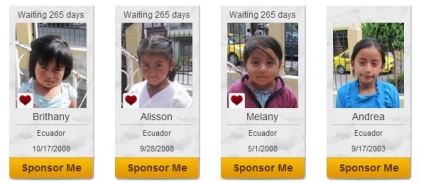 Four sweet little girls need your help, and I'm hoping that four of my readers will jump right in to help them!
If you follow me on Facebook, you know that we recently decided to sponsor a child with Compassion. We chose a little girl from Ecuador. Since visiting there last February with Operation Christmas Child, I feel very close to that nation and its precious people. My Compassion child actually lives in a city that I visited on my trip. Recently, we received a letter from her pastor. He said that of the 180 children in his church, 145 were part of Compassion's program there, and they had received sponsors. That meant 35 children had not received sponsors.
So I asked Compassion if we could give those 35 to my readers, to see if there might be 35 of you who would be willing to sponsor these kids who are in the same program with my Compassion child. By the time we got everything in place to do it, now all of them have been sponsored except four!
Four sweet little girls. I would love for four of my readers to share with me in this wonderful ministry by choosing to sponsor Brithany, Alisson, Melany, and Andrea. I don't want any of them to feel left out.
You can go HERE to learn more and find out how to sponsor one of these girls.
If you sponsor one, please tell me about it. Who knows? Someday I may get to go back to Ecuador with Compassion. Someday you might visit there. Wouldn't it be great if some of my readers sponsored children from the same program and someday we got to visit them together?