Gift Guide: For Her
Do you love shopping online as much as I do?! I have been doing so much online shopping over the past few years because it is SO convenient. With having a new baby in our home this year, my opportunities for shopping outside the home are slim! With only a few weeks until Christmas, I thought I would help provide some inspiration for anyone who might be "stumped" on gift ideas, or maybe procrastinating on buying their gifts.
This is a Gift Guide for Her.  For all the girls in your life. Your mom, your sister, your sister-in-law, your girl friend, your aunt, your co-worker, and even for you.
Gifts Under $25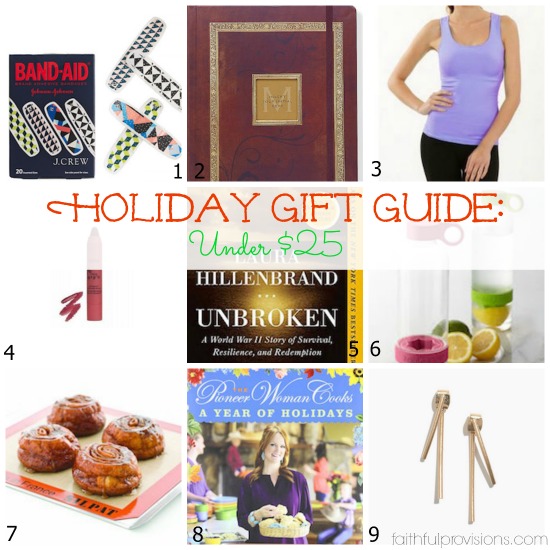 1. Band-Aids – Are these not the best stocking stuffers ever?! I realize they're more than a "normal" brand of Band-Aids, but they are so fun!
2. Journals – These make a perfect gift for any girl in your life. Some of my favorite journals were gifts. I love the personal monogram on the front!
3. Slimming Tank Tops – My friend Edie introduced me to these when we were on our trip to Nicaragua. They've been life-changing.
4. Makeup – Best lip color EVER! This Tarte Lip Tint is my absolute Favorite!
5. Books – I'm an avid reader, so I always enjoy reading recommendations from others. The best book I've read this year has been Unbroken by Laura Hillenbrand.
6. Water Bottle – This water bottle is SO COOL! It would make a perfect gift for any girl, but especially with someone that you aren't too close with. I would be thrilled if I received this for Christmas. I bet it would help me drink more water. 🙂
7. Silicone Baking Sheet – This has become a must-have in my kitchen. If there is anyone on your list who enjoys cooking or baking, they will appreciate this!
8. The Pioneer Woman Cookbook – This cookbook has step-by-step pictures in it so you can tell if you're making the recipe correctly. Plus, all the recipes are delicious. Every. Single. One.
9. Earrings – There are a lot of options in this area, but I loved these Stembend Earrings.  They would be perfect for any Fashionista on your list.
Gifts Under $50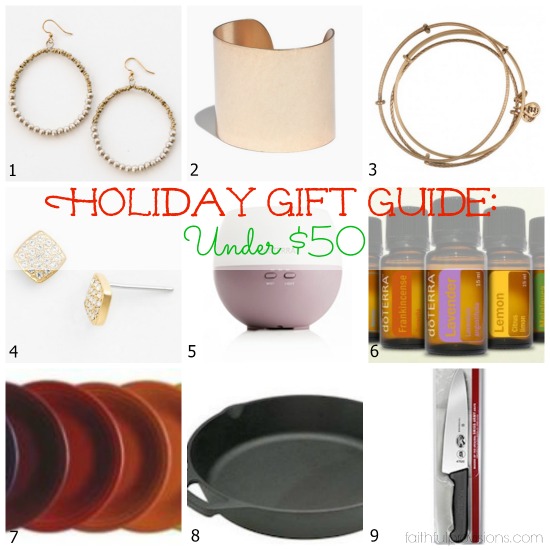 1. Noonday Jewelry – I love their stuff and love that they have a Mission-minded focus! I want to get these Metallic Pearl Earrings. My friend has this necklace. Every time I see her wear it, I love it. The other day she wore it with a black outfit and it looked marvelous!
2. Gold Cuff – Cuffs are a classic piece of jewelry that any girl can wear. I really like simplicity and price of this one. If you want something more unique, I really like this Athena Cuff or Woven Wonders Cuff from Noonday Jewelry.
3. Gold Bangles – Almost every girl loves jewelry. I love Alex and Ani Jewelry, especially these bangles! They are so pretty and very versatile. You could wear them every day with jeans, or even to the office.
4. Stud Earrings – If you have someone who is difficult to shop for, this is a winner! Stud Earrings are a hot trend right now, but these square earrings have a timeless look to them. Plus, they're really sparkly!
5. Essential Oils Diffuser – This is the diffuser I have for my essential oils.  I have a few of them throughout the house.  Otherwise, I love the Petal Diffuser from DoTerra.  We use ours all the time.  I mean, literally every.single.day. Our house smells amazing, plus it helps us stay healthy and even adjusts our mood if needed!
6. Essential Oils – These have become an increasingly popular item recently.  You could use these with or without a diffuser.  My top favorites are Lemon, Lavender, Melaluca/Tea Tree and Peppermint.  I also use Onguard this time of year to remain healthy.
7. Fiestaware – This is a great gift because you can "build" on it.  You could start with a smaller piece, or collection and then add to it each birthday/Christmas.  Plus, they have so many beautiful colors to choose from.  It's like eye candy.
8. Cast Iron Skillet – This is another kitchen essential for me.  You can get smaller sized pans for $10-20, but I would opt for a larger-sized skillet to get the most use.
9. Chef's Knife – If you know someone who has been using the same knife they received as a wedding gift 15 years ago, do them a favor and help them upgrade. This is a great buy.
Gifts to Splurge On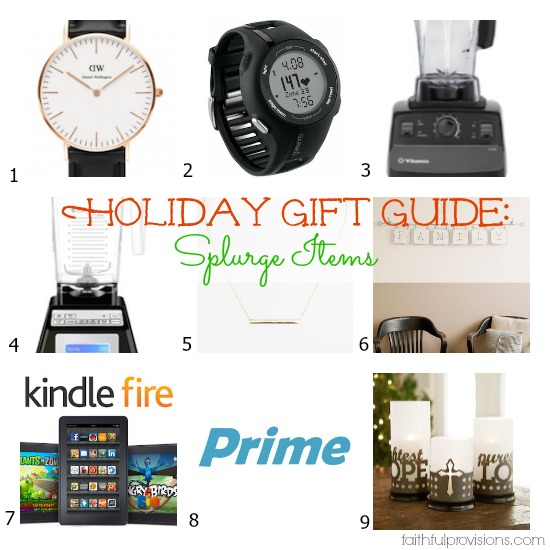 1. Fashion Watch – I love these watches. I would be very happy to see one of these in my stocking this year!
2. Garmin Activity Watch – When it comes to tracking your fitness, you can't go wrong with Garmin. The Forerunner 210 or Forerunner 220 are great options if you have a running enthusiast on your list!
3. Vitamix – This is definitely a more expensive gift.  But worth.every.penny.
4. Blendtec – Again, there are other blenders that are less expensive, but not at all in the same caliber as this.  I think I've even seen them put iPhones in these on YouTube. 🙂
5. Gold Bar Necklace – I love this simple necklace. This is great when you want to wear some jewelry, but keep it simple.
6.  Family Wall Tiles – I am in LOVE with these Words to Live By.  If you don't want one of their pre-made words, you can customize your own word.  There are so many options!
7. Kindle Fire – The technology on the Amazon Kindle Fire reading tablets has exploded over the past few years.  It's definitely more than the "Ebook" tablet it was when it first came out.  Great gift for someone who wants a tablet, but without paying the Apple price tag for an iPad.
8. Amazon Prime Membership – This is the gift that keeps on giving. Even more than a gift card.
9. Hurricane Candle Holder Set – This has been on my "wish list" for a while.  It's not something I would normally just buy for myself, which makes it a great gift idea!
What would you add to this list? What are some of your favorite gifts?
Be sure to checkout the full list of ideas in our new Holiday Gift Guide series!