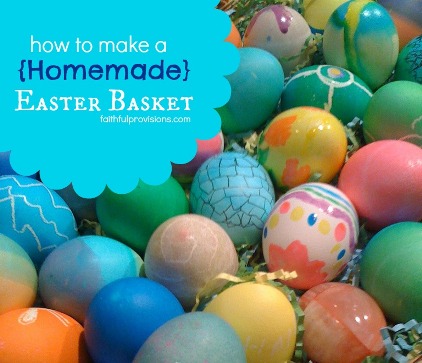 Homemade Easter Baskets don't have to be difficult to make–just remember who you are making them for. Advertisers perpetuate the thought that Easter baskets must be a haven for products that are bad for our bodies and the environment. So when it comes to your kids and their perspective, Easter is often all about the basket and the candy and treats that come inside.  But with a few simple changes, health-conscious families can build homemade Easter baskets that are earth- and health-friendly without sacrificing the wonder and enjoyment of the season.  Below are a few tips to get you started.
Natural Easter Egg Dyes are Perfect for Homemade Easter Baskets

You can make beautiful hard-boiled eggs from produce and spices you have on hand right now.  This safe, chemical-free Easter egg coloring technique is an inexpensive and fun way to produce a homemade basket tradition.  There are dozens of tutorials available, but the process is simple.  All it takes is few deeply hued pieces of produce or spices, mixed with enough boiling water to cover your eggs plus a tablespoon of white vinegar.  Boil your eggs and color as usual.  Be creative.  There's no limit to the colors and designs you can create in your kitchen.
No Fake Grass in a Homemade Easter Basket!

The plastic Easter grass found in a rainbow of colors is an unnecessary expense that will end up all over the house before it goes into a landfill somewhere.  This year, skip the plastic grass and try a more earth-friendly option for your homemade Easter baskets.
How about shredding colored paper from old art projects or magazine pages?
What about growing real grass for this year's Easter basket?
It's easy and a great Easter morning surprise for the kids.  All it takes is a little planning to give yourself enough time to grow a basket full.  If you start now you'll have a beautiful natural basket by Easter.
Reuse and Recycle Your Homemade Easter Baskets

Don't bother with an Easter basket purchase this year. Use something you already have at home, or opt for something you can re-purpose. For example:
A plastic pail with handle and shovel. This can be used poolside or beach side all summer long.
A colorful bucket.  Re-purpose as a container for doll clothes, building blocks, or art supplies.
A shoebox. If you grow your grass in a shoebox, it can easily be planted in your yard. The cardboard will eventually decompose.
What about you? Do you have some great ideas that you use for making a homemade Easter Basket? Please share!
Find more Easter Basket Ideas on Faithful Provisions.