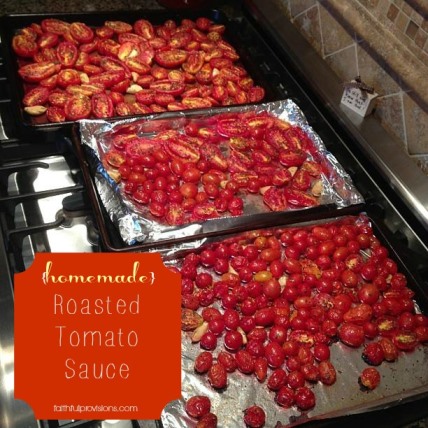 This roasted tomato sauce is simple to make and perfect for all those tomatoes that straggle in from your garden. Roma tomatoes are my favorite to use here, but I frequently have cherry tomatoes that need to be used and they work perfectly too.
*Scroll down to use print recipe feature and add to your Recipe Box.
When I am roasting the tomatoes, I incorporate any flavors I want in the sauce, so it gives it a deeper, more savory taste.
Try things like garlic, onions, and any spices, fresh or dried. The key to this is to roast it late afternoon so it can cool. Then once cool, drop it all into a food processor or blender and purée. If it is not cooked, still room temperature, I just put the sauce over hot noodles.
Roasted Tomato Sauce
Ingredients
2 cups tomatoes (Roma halved or cherry whole)
2 tablespoons oil (I prefer Grapeseed)
1 small onion, sliced
3-4 garlic cloves, whole
1 teaspoon each of dried basil, thyme, and oregano
1 teaspoon fine sea salt
Fresh black pepper
Instructions
Combine tomatoes, oil, garlic, and spices in a bowl and toss to coat.
Place on a cookie sheet and roast in a 400 degree oven for 20 minutes.
Remove from oven and cool.
Once completely cool, put into a blender and purée.
Pour over hot noodles.