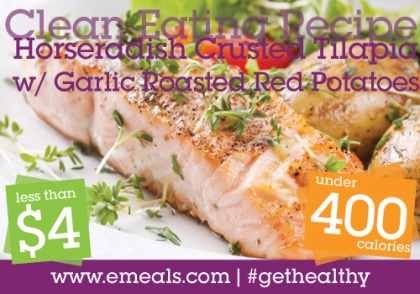 I'm excited to hear from so many of you who have set intentional goals to do more healthy eating this year, and now I've got some exciting news for you. My friends at eMeals have created a new Clean Eating Plan.
*Scroll down to use print recipe feature and add to your Recipe Box.
 
They've planned the meals and organized the shopping list for you to be able to serve your family wonderfully fresh meals every night with natural ingredients. Many of the recipes are under 400 calories and less than $4 per serving, like the one I'm sharing with you below: Horseradish Crusted Tilapia with Garlic Roasted Red Potatoes.
Horseradish Crusted Tilapia Recipe from eMeals Plus Subscription Discount Code!
Ingredients
Tilapia:
3 tablespoons light mayonnaise
2 tablespoons Parmesan cheese
1 tablespoon lemon juice
2 teaspoons Dijon mustard
1 teaspoon horseradish
6 (6 ounce) tilapia fillets
¼ cup whole wheat breadcrumbs
2 teaspoons butter
Potatoes:
1 pound red potatoes, cut into wedges
2 tablespoons olive oil
2 cloves garlic, chopped
½ teaspoon salt
½ teaspoon pepper
Instructions
In a small bowl, combine mayonnaise, Parmesan cheese, lemon juice, Dijon mustard, and horseradish.
Spread mixture evenly over both sides of tilapia filets, and coat lightly
with breadcrumbs.
Heat butter in a skillet, and cook fish over medium heat 4 minutes per side, or until browned and fish flakes easily with a fork.
Heat oven to 375 degrees. Toss potatoes with olive oil, garlic, salt, and pepper.
Bake on a rimmed baking sheet for 45 minutes, stirring once halfway through cooking time.
Serve potatoes with tilapia.