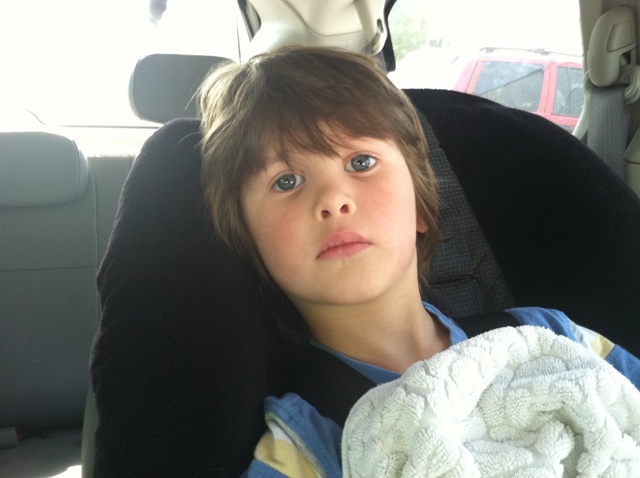 My husband has been traveling quite a bit lately, which always seems to put me behind schedule (because he really does so much to help me!), and now I've got a sick child. Today my 4-year-old son is throwing up; he's got a fever, doesn't feel good–and of course, this is the last week of school and probably the busiest week of my life so far this year. Plus, I've got a million things on the blog that I want to do: recipes I'm excited to share, more money-saving tips for you—so today just seems like one of those days that is too full and I am way too far behind to even think about trying to catch up. Isn't that just how life goes? And then, knowing that I truly need my quiet time, being fully aware of how I am, in fact, desperate for time with the Lord each day–I made the fatal mistake of allowing myself to get pulled into the computer world this morning.
And guess what ended up happening?
I didn't even have my quiet time this morning. But, knowing God's grace, today will be a day of constant conversation with Him–what I call "breath prayers." And in doing that, He will show me what is important and what isn't on a day like today. I would say what is truly important in His eyes probably isn't blogging, working, washing dishes, and folding clothes. (Or washing them for that matter! Because you have to know that I have piles of clean, unfolded clothes all over this house! Yep, happens every day.) What is important is being available for my little one, just like my Father is always available for me.
So that's my crazy day! When days like this come along, I find myself going back to these encouraging verses from the book of Philippians. These are two of my favorites that I have memorized and rely on:
For I can do everything through Christ, who gives me strength. (Philippians 4:13)
Don't worry about anything; instead, pray about everything. Tell God what you need, and thank him for all he has done. Then you will experience God's peace, which exceeds anything we can understand. His peace will guard your hearts and minds as you live in Christ Jesus. (Philippians 4:6-7)
What do you do when you have a day like this? I would love is for you to please share your most encouraging verses today–the ones that get you through the crazy days.