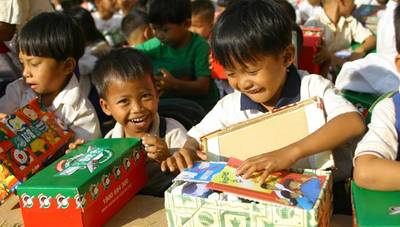 Can you believe that God allows us to serve Him? It's just amazing the ways He uses us when we let Him. In the seemingly small ways (although there are really no small ways when it comes to making an eternal difference) to the big things He lets us do, I'm just amazed that He can and will use us. And I'm grateful for that.
For many years, I have had the desire to go on a mission trip. Once I had children, I let that desire fade, knowing that my place was here at home. In my book, Saving Savvy, I talk about how God so graciously brought the mission field to me, opening doors to serve various local ministries through giving and teaching opportunities. But recently, incredibly, He has made it possible for me to finally head out on a mission trip!
Last month I was asked by Samaritan's Purse (the organization headed up by Franklin Graham that began Operation Christmas Child) if I would like to go on a trip to Ecuador to deliver the Christmas shoe boxes. Can you imagine how excited I was?
Honestly, I wouldn't have asked for this, not with my kids as small as they are. But yet, the Lord presented the opportunity to me, answering a prayer that I had pretty much put away for now, and I have a complete peace about going. When I got the email and talked about it with my husband to see what he thought, there was no hesitation on his end. Completely supportive, he was excited for me, because he has been on a mission trip himself (he went to Haiti in 2010), and he knew what an impact it would have on my life.
Now, the reason this is so amazing for me is that it fulfilled two desires of my heart. First, to go serve and be in the foreign mission field, if for only a short time. Secondly, to be able to partner with a stellar organization and a cause that is dear to my heart: teaching children about Jesus! For the past three years, my family has participated in Operation Christmas Child. Each year when we pack our boxes, we long to do more.  We try to connect more deeply, through simple things like a handwritten letter or a picture and by putting just a little more thought into the items we put into the box. Each year seems to build on the previous. As a family, our hearts are drawn more fully into making sure these boxes are treasures for those who receive them.
My children have grown to love shopping year round for items to fill the boxes, and they love putting them together, and sending them out with great care. My daughter prayed each night before we sent our boxes that the items would bless the child who received it and that it would be exactly what that child needed. The biggest blessing has been watching my children learn to care for and love others in this process.
I will be leaving on February 19th, staying until February 25th. (I am even more excited because I am getting to go with my sweet friend Christy over at Southern Plate.) I realize this is the opportunity of a lifetime, but the hardest part for me is going to be leaving my little ones for that long. I have never been away from them for more than two nights. I know everything will be fine, but I want to ask you to pray for me (and them) now and while I am gone. In that way, you know, you will be going with me. You will be a part of this trip.
Here are some areas I would love covered in prayer:
Pray that God will prepare my heart before I go, so I can minister to the children and families I meet, as well as to be a blessing to the people who work with Samaritan's Purse.
Pray that I will be open to what God has to teach me in this process, both before and during my trip.
Pray for my family while I am gone. There will be childcare and scheduling needs, as well as two little ones missing their mom and a daddy who will have a lot to do!
Please pray for a safe journey.
Have you ever been on a mission trip or desire to go?  If so, I'd love to hear about it. If you haven't, I'd love to hear about your very own mission opportunities right where you are.
Photo Credit: Operation Christmas Child