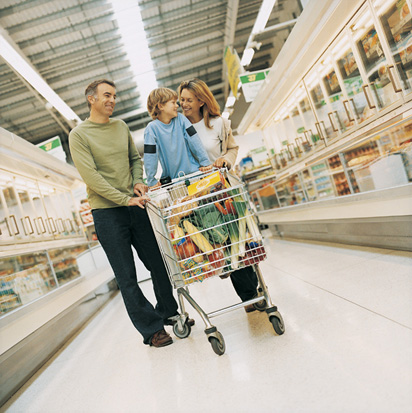 Guest Post by Jane DeLaney of E-mealz.com
I am often asked how much I spend on groceries per month. One thing is for sure, I know that if I don't budget a fixed, and I mean fixed, amount, it will quickly become a black hole! Families with the income range of $50,000 to $90,000 per year should spend a recommended 11 to 14 percent of their income on groceries after taxes and tithe. For example, a family of 4 to 6 with the income of $75,000 per year should have a modest grocery budget of approximately $500.00 per month! That seems near impossible, but it can realistically be done!
Can an average size family spend less than this? Absolutely – with a lot of time and effort! There have been many dinners that I have pulled off for $4 – $5 total, and even less. With coupons, rock bottom prices, meat markdowns, and free produce from my neighbor I am always striving to make dinner as cheap as humanly possible! However, these are props and variables that can be time consuming and are not always at my fingertips every week. I realized that depending on these variables to come together turned dinner into an inconsistent "hit or miss" approach, which left gaps. This set me up for "the five o-clock stare" into my cupboard which then led to the fast-food money pit or a last-minute grocery run. One single fast-food bombshell would cancel out the savings and effort I had put into coupon matching.
As my family grew and I went back to work, time became critical which forced me to think realistically instead of idealistically. Dinner had to appear every night, come rain or shine, dirt cheap or not. I finally accepted that the best tool I had in my grocery-saving arsenal was not my file cabinet of coupons or cupboard full of bargains, rather it was consistent, realistic, practical dinner planning. This kept me on a predictable plan that I could count on and know would stay within the "fixed" grocery budget amount. Using recipes that were already budget friendly, then building a menu based on the weekly grocery store sale flyer, were two variables that could consistently translate into a working, frugal menu from week to week. If I had extra time in a given week, I could dig in deeper for further savings with coupons, bargain hunting, and stockpiling.
So what is a realistic budget amount for the cost of one family dinner? At E-mealz we believe that a do-able, projected amount that can feed a family of four to six is approximately $11-$12 per dinner. This totals $360 for the entire month for dinner groceries. This amount is based on today's current market's grocery prices and frequent sale prices.
If you have never written and followed a dinner plan from week to week, take on the challenge this year to try it! Having a dinner plan translates into a grocery-spending plan that is key to making your overall budget consistent and fixed. Gain family time, gain some sanity, and gain control on your spending. With a realistic and predictable approach, your very own dinner table awaits you and is a money saving tool waiting to happen!
E-mealz Discount Code for Faithful Provisions Readers
E-mealz is graciously offering my readers 15% off for anyone who signs up using the online code FAITHFUL. Do the math, and you've just dropped the price of E-mealz from $5 per month to only $4.25!  Here is how to get yours:
Go to E-mealz.com and click on "subscribe now".
Pick the store you want a meal plan and grocery list for.
Use code FAITHFUL at checkout to get 15% off.
Come back later today to enter to win one of four 3-month meal planning subscriptions from E-mealz.com!
========================
About Jane of E-Mealz.com
Jane DeLaney is the Founder and CEO of E-Mealz, Inc. E-Mealz provides a simple on-line meal planning system based around Jane's own frugal organization structure and delicious recipes that the whole family can enjoy. Visit E-Mealz for more information, and connect with Jane at her blog, Making Time For Family.
Photo credit: Getty Images