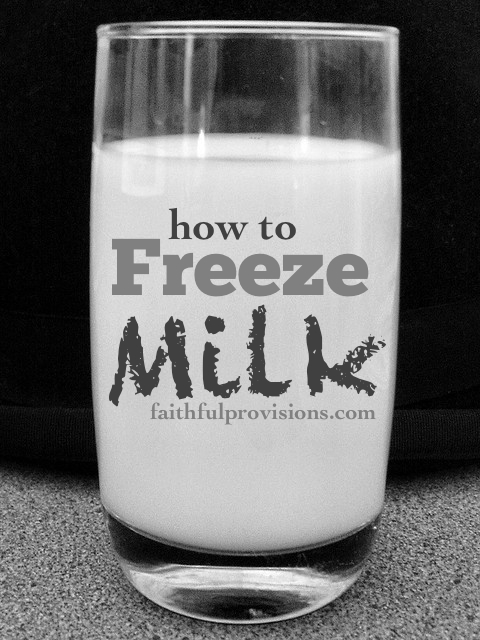 Can you freeze milk? Yes, you can! It's really easy to learn how to freeze milk, so I've got basic instructions for you below followed by some tips. Whenever you find milk on sale, you can take advantage of it by freezing the milk. Follow these three easy steps.
Freezing Milk
Open the plastic jug and take out some milk before freezing. Milk will expand when frozen, so pour out about ¾ – 1 cup of milk from your gallon plastic jug before freezing it, and about ½ cup from a half gallon plastic jug of milk.
Be sure to replace the cap tightly. Milk will absorb the flavors of other foods easily, so you will want the cap on tight.
Label the jug with the date, and place in your freezer.
Thawing the Frozen Milk
Thawing the frozen milk is safely done in your refrigerator. It can take 1-2 days to thaw completely. You can give it a head start by thawing about halfway in a sink full of cold water, then placing in the refrigerator to finish thawing.
Easy Tips for Freezing Milk
Keep in mind these easy tips for freezing milk:
Buy ½ gallons rather than gallon size. They thaw more quickly and fit more easily into your freezer.
Freeze skim milk, 1%, or 2% rather than whole milk. Milk with a higher fat percentage separates and does not freeze as well.
Repackage the milk and save it in smaller quantities, such as 1 – 2 cup portions. This size is perfect for using in quiches, puddings, soups, sauces, or scrambled eggs.
Grab a permanent marker and label the plastic jug (or other packaging) with the date. You may freeze milk for 2-3 months.
Depending on the quantity of milk frozen, it can take a day or even two days to completely thaw in refrigerator.
Once defrosted, use within 2-3 days.
Does frozen milk taste different?
Probably the biggest concern about freezing milk is wondering if frozen milk tastes different. Once it has been frozen, the quality of the milk will not be exactly the same as when it was fresh. There are a lot of people who can't taste the difference, but some people can. You can always use the frozen milk for cooking rather than drinking. However, knowing you didn't have to make a midnight run to the grocery or hop out of bed at 5 am to head to the nearby convenience store might make it taste even better!