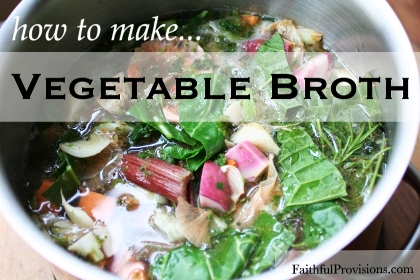 Recently, I decided to make vegetable broth. I already make my own chicken stock, and after purchasing yet another can of tasteless, store-bought vegetable broth over the holidays (I can't find one that I like)  I decided it was time to make my own.
*Scroll down to use print recipe feature and add to your Recipe Box.
I found that it's just as easy as making homemade vegetable broth, especially if you collect and keep your vegetable scraps rather than discarding them. I keep a freezer bag in freezer full of mine. Now, when I'm talking about using vegetable scraps, here's what qualifies as "scraps":
End pieces – from carrots, celery, and more
Peelings – from carrots, potatoes, onions (yes, use that brown onion skin!)
Stems – from broccoli and cauliflower
Pulp from my juicer (before I add any fruits)
What remains in my garlic press
Rinds from butternut squash and other root vegetables that I roast
*Please note: Do not put anything rotten, molded, or dirty in with your scraps.
Kelly's Vegetable Wash: I use a mix of 1 part vinegar to 3 parts water and wash my vegetable before peeling with a vegetable brush.
Making Vegetable Broth
When I am making vegetable broth, I use whatever I've collected in my freezer bag from the vegetables we've been eating. I've noticed that the primary ingredients that are in my vegetable broth are carrots, onions, and celery. Those three components are known as a mirepoix, referred to as the "holy trinity" of flavor in Creole and Cajun cooking. But I add in whatever is in my freezer bag. This time, I had sweet potatoes, parsnips, turnips, and collard greens. Use whatever you have on hand. The flavor will vary according to what you have to use. I was amazed at how good this tasted.
Vegetable broth doesn't have to cook all day. It will just take about an hour and a half (90 minutes). I cook mine on the stove top instead of using the crock pot. After it cooks and cools down, I freeze it in ice cube trays. Eight cubes equals one cup (approximately).
Recipe for Vegetable Broth
For those of you who would prefer to go by an exact recipe for vegetable broth, I realize this will be little challenging! But trust me, no matter what you put in your homemade vegetable broth, it will taste great.
How to Make Vegetable Broth
Ingredients
Your freezer bag full of vegetable scraps.
6-7 springs of thyme
5-6 stems of parsley (Don't cut, just put it in)
1 sprig rosemary
5-10 peppercorns
Several full cloves of garlic (I put in lots of garlic cloves to make sure it's got lots of great flavor.)
2 bay leaves
Instructions
In your largest stock pot, place your vegetable scraps from your freezer bag, coarsely chopped.
Add thyme, parsley, rosemary, peppercorns, garlic, and bay leaves.
Fill stock pot with distilled water up to the top, then bring it to a rolling boil.
Let it simmer, covered, for about an hour.
Remove lid and allow broth to simmer for an additional 30minutes. (This will reduce and concentrate broth.)
Remove from heat and allow to cool.
Pour vegetable broth through strainer into pitcher.
If you like your broth really clear, with no debris, then pour again through a cheesecloth or coffee filter. (I actually like the debris, so I only strain mine once.)
Pour into ice cube trays, freeze, then place cubes into labeled freezer bags.
Recipe for Chicken Broth
You can learn how to make my recipe for chicken broth HERE on Faithful Provisions. These homemade broths are just the ticket for winter soups and stews.