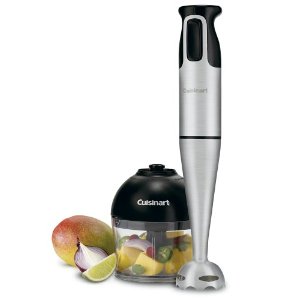 One of our favorite fall soups is my Butternut Squash Soup. Its amazing flavor is always welcomed this time of year, especially by my husband Bradford. It's one of his favorite dishes. It is a little tricky to puree soup in a blender, so read on for my tips.
If you do not have an immersion blender, you need to be very careful when pureeing soup while it is hot. If not, you will end up burned, with soup all over the walls! 
*Note:  If you plan on purchasing an immersion blender, I would look for one that has detachable parts and includes various attachments.  Here is a list of immersion blenders with detachable parts and attachments you can check out.
If you have never pureed hot soup in a blender, please read this first. DO NOT pour all the hot soup into a blender and blend.  The lid will come off and you will get burned, and you will make a huge mess.
First pour soup in small batches into the blender, no more than half full. In fact, I recommend about a quarter full.
Remove the center part of your blender top and put a damp towel over the entire lid of the blender, covering the hole. This will allow the steam to escape so the top won't pop off.
*Note:  You will still put on the blender top, just remove the little circle part in the middle and covering with towel.
Blend until creamy and transfer to another bowl.
Repeat this process until all soup is blended.
Find more of my Kitchen Tips on Faithful Provisions.