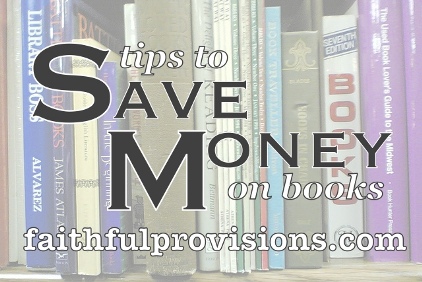 If you're looking for ways to learn how to save money on books, I've got lots of tips below for you to manage to get books for free or almost free. Some are exclusive to our technological age, and others are as old as the library itself. Whichever way you choose to read, whether via Nook, Kindle, iPad, or snuggling up with a great paperback, I'm hoping you'll find new ways below that you can support your book habit!
The Library. Well, obviously, but have you been to the library lately? Most libraries have websites where you can place holds, order books so that you can pick them up at your closest library, and even download books for free. And before you go out and purchase the latest release, put your name on the waiting list at the library. You will eventually get to read that new book!
Read reviews. You can save a lot of time and money when you simply take a few minutes to read book reviews online or in the paper. If you love books like I do, sometimes you're just intrigued by the cover and the feel of a new novel or non-fiction book. But if you spend money on a book that you don't enjoy, then–what a waste!  If a book is not recommended by a friend, I will check the reader reviews on Amazon to see what people are saying about it. That's why I post my reviews on Faithful Provisions, as well, because I'll tell you which books I really enjoyed, and hopefully you can make decisions that will save you money too!
Garage sales, estate sales, thrift stores. To me, finding great used books is just like passing a treasure along. You can build a beautiful library of hardcovers with patience and savvy shopping. A friend of mine was collecting Jan Karon's Mitford series of books, and she was looking for all hardbacks. By frequenting her local Goodwill and used bookstore, she was able to get all of them in great shape for a fraction of the price that she would have spent on them new.
Free Kindle downloads. We look for free eBooks for you every day here on Faithful Provisions. When you see the post, be sure to grab the books you're interested in immediately. There is no guarantee how long the price will stay "free." You can see all the FREE eBooks HERE.
Amazon Prime. With Amazon Prime, you can "check out" one book a month FREE. See all the details for this option HERE.
Borrow from friends. Just be sure you don't treat a borrowed book as though it's your own. And don't forget to return it!
Kindle Lending options. Did you know that you can lend a Kindle book you have purchased to another reader for 14 days? They don't even have to own a Kindle for you to be able to do this! See all the details HERE.
Used bookstores. Often, used bookstores will buy your gently used books back from you, so you can then purchase more books from them. Plus, you can rack up credits and get many books free.
Family Christian Stores $5 Deals. You can find books on sale for $5 every day at Family Christian Stores HERE, and they are always great buys. I will stop in there whenever I can to see what I can snag for myself or for gifts!
Bargain racks at any bookstore. I check these bins and racks first.
Amazon's Top 100 FREE Kindle eBooks. This is an ever-changing list of the Top 100 FREE Kindle eBooks–click HERE.
Read the classics online for free. Project Gutenberg HERE is a site where you can download over 42,000 books to your Kindle, android, iPhone, or iPad for FREE.
Bookswim. From what I've seen of this new site, it's basically like NetFlix, but for books. (They also offer college textbooks.)
Audio Books. Audible.com is offering a 30-day free trial which means a free audio book for you! My book, Saving Savvy, is being offered in this promotion. Get all the details HERE.
How do you keep your book budget in check? Where do you find the best deals on books? Please share.
Be sure to check out my 2013 Reading List HERE.