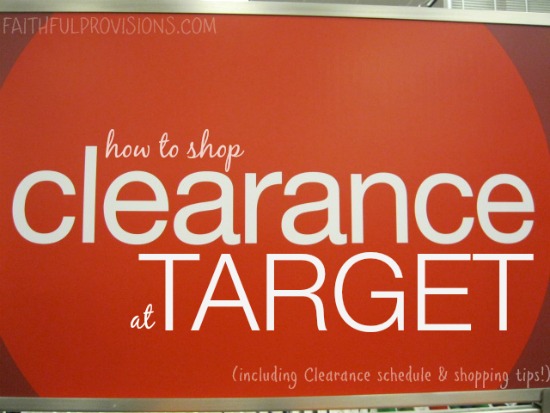 The best way by far to save money is to have a plan – especially by planning ahead, which is easy when you have the Target markdown schedule! One of the easiest ways I plan ahead for our family is by purchasing gift items ahead of time. My favorite way to do this is by shopping in the clearance section at Target. Every time I head to Target, I check out their clearance section. I always look for items that I can buy for later, like birthday gifts, toys, clothing, shampoo, etc.
Here are some of my favorite tips on How to Shop for Clearance Items at Target:
Shop the Endcaps. Finding deals at Target starts with knowing how to navigate the store. Most of the clearance items are found at the end of the aisles, usually the end of the aisle facing a wall. The endcaps with the most clearance merchandise are usually those farthest away from the main shopping aisles.
Know the Target Markdown Schedule. This is the schedule that most Target stores will use for their markdowns. (Your store may vary this schedule, so ask what your own Target's schedule for markdowns is).
Monday — Electronics, Kids' Clothing and Stationery (Office Supplies, Cards, Gift Wrap, etc.)
Tuesday — Women's Clothing, Domestics, Pets, and Market (food items)
Wednesday — Men's Clothing, Toys (also Thursday), Health and Beauty, Lawn & Garden items
Thursday — Housewares, Lingerie, Shoes, Toys, Sporting Goods, Movies, Music, Books, Decor, and Luggage Friday— Cosmetics, Housewares, Hardware, Jewelry, and Automotive
In addition to knowing the day of the week, it's important to know that they mark things down to the next level every 2 weeks. So, if you're watching an item and see it was just marked down 50%, come back the same day in another 2 weeks and you should find it at 75% off. Sometimes you will come back and they will all be gone. If it is something I really need, I will buy it at 50% off. If it is something I am buying for the future, I wait to see if I can get it at 75% off.
Know the Target Holiday Markdown Schedule. For instance, the toy department gets reset in January to make room for Spring/Summer toys and again in July/Aug. During those times, I stock up! My favorites are Lego's, Littlest Pet Shop, and Playmobil sets. You can't go wrong with those at 75% off. I typically stock my supply of birthday gifts for a whole year during this time. I probably look a little funny with all the things in my cart. Did you know that even after the merchandise leaves Target, after its final markdown, quite often you can find it at Goodwill!
Learn to Read the Red Stickers. All clearance deals at Target have red stickers.  You will  find a a number such as, "15, 30, 50″ on the top right corner. That is the percentage it has been marked down.  Also, if the price on the sticker ends in an "8", it will be marked down again.  If it ends in a "4", that's the lowest it will be. So if you see a price ending in a "4" at 50% off, you might want to grab it now, because it's not going to get any cheaper.
Are you a Target shopper? What are your favorite tips for shopping there?
Follow Faithful Provisions (Kelly Hancock)'s board faithful provisions on Pinterest.