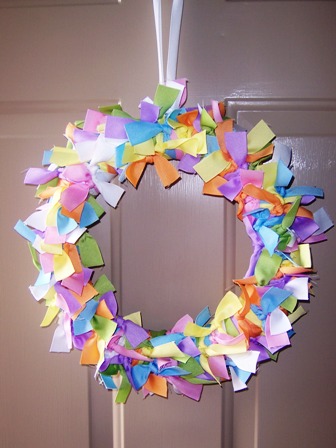 Welcome, Pinners! If you like this craft, check out my other Easter crafts ideas HERE.
This wreath makes for many great kids Easter craft ideas. It's very easy to make while the kids are playing, and it's easy for them to help with as well. You can easily make several of these kids Easter craft ideas: One for every door of your home!
What you need:
1 foam wreath
Ribbon – I purchased 7 rolls of 7/8″ x 18 feet in pastels of yellow, purple, green, blue, pink, and orange; and also white.
Instructions:
Cut ribbon into 12″ pieces.
Double knot on wreath. You can put as much or as little ribbon on the wreath as you would like. I personally used almost all of my ribbon. I wanted it to be very full. Note, you may need to trim a few loose threads from the ribbon once knotting is complete.
I tied an additional ribbon on the back to make a hanger, but you could also hang directly on your door hanger.
I was able to pick up everything at JoAnn's for about $20 (after coupons). This is easy and fun for you and your kids to make together this Easter. It will look great on your door all spring.
Faithful Provisions Reader Tara Burress submitted this terrific kids Easter craft idea. Married to her high school sweetheart, Brian, she is the mother of two rambunctious little boys, ages 3 and 17 months. When she's not chasing around her boys and digging rocks out of their pockets, Tara loves crafting, baking, and finding a good deal.
Thanks, Tara!
Find more Easter Craft Ideas for Kids on Faithful Provisions!