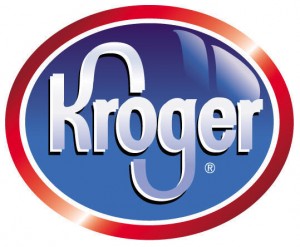 This is a very slow week at Kroger.  It is a good week to skip shopping. I know I will!
Wondering what the abbreviations below mean? Checkout my Coupon Lingo Guide.
So, what deals did you find at Kroger this week? Be sure to leave your finds in the comments.

_______________________________________________
A few things to remember:
These deals are for the Tennessee and Kentucky areas, so prices may vary by region.
I only list what I think are the "best deals". For a full list scroll down for link.
My store doubles coupons everyday $.50 and under.
Click here for the weekly ad.
_______________________________________________
MEAT
Boneless Pork Loin — $1.99/lb
T-Bone Steaks — $6.99/lb
Atlantic Salmon Portions, fresh farm-raised — $2.99/lb
PRODUCE
Mangoes — $1
Hass Avocados — $1
Cantaloupe — $2
Green Cabbage — $.39/lb
Kroger Mini Carrots, 16 oz — $1
ORGANIC and NATURAL
Organic Fuji Apples — $.99/lb
Heartland Granola Cereal — $1.84/ea
Blue Diamond Nut Thins — $2
-$0.75/1 Blue Diamond Nut Thins 12/5/2010 SS Insert (exp 3/31/2011)
Final Price:  $1.25
Blue Diamond Almond Breeze, half gallon — $2.99
–$1/1 Blue Diamond Almond Breeze Almond Milk (exp 12/27/2010)
Final Price: $1.99
Kashi Pizza — $4.99
-$1.25/2 Kashi Frozen Food Products Kroger My Magazine, All Natural (exp 1/23/2011)
-$1/1 Kashi Frozen Item Kashi Booklet (exp 2/28/2011)
Final Price: As low as $3.99
Knudsen Sparkling Juice — $2
–$0.50/1 RW Knudsen Sparkling Essence Rolling
Final Price: $1
OTHER DEALS
Kroger Cheese — $1.66
Capri Sun or Kool-Aid Jammers, 10 ct — $1.77
Luck's Blackeye Peas, 15 oz can — $.79
Doritos — $1.99
Nestle Hot Cocoa — $1
Kroger Buns or Bread — $1
Kroger Sour Cream or Dip — $1
Kroger Cream Cheese — $1
Kroger Bagels — $1
Kroger Vegetables — $1
Voskos Greek Yogurt — $1
–B2G1 Voskos Products (exp 1/2/2011)
–$1/1 Voskos Product Rolling
Final Price: $1 for 3
Duncan Hines Cake Mix — $1
-$0.75/1 Duncan Hines Decadent Cake or Amazing Glazes 9/26/2010 SS Insert (exp 12/31/2010)
Final Price: $.25
Hunt's Tomatoes — $1
–$1/3 Hunt's Diced Tomatoes All You Jan 2011 (exp 3/27/2011)
Final Price: $.66/ea wyb 3
Weekly contributor in BeCentsable's Grocery Gathering
Looking for a coupon? Find it on my Coupon Database.
=========================
Did you post Kroger deals for your area? If so, please free free to leave your finds in a comment below.  Since Kroger prices and deals vary by region and they have a Family of Stores, this will be a resource to find Kroger (and Family of Stores) deals for any area! To keep it easy to find your local deals, use this example for listing your post. i.e.) Cincinnati, OH -Kroger (Mommy Snacks), or San Diego – Ralph's (Faithful Provisions).