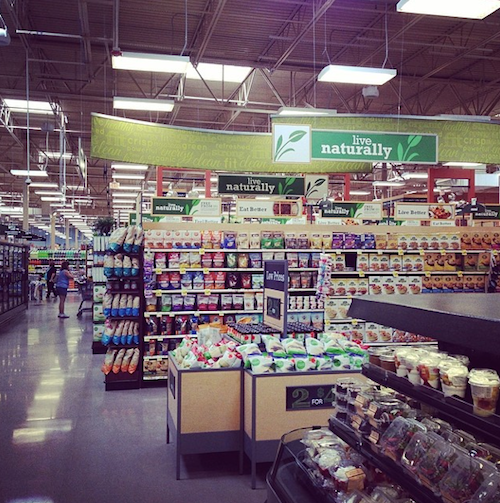 If you have a Kroger Marketplace in your town and haven't visited it yet, you need to check it out!  Until a few weeks ago, I had never stepped foot into one because the closest one was over 30 minutes away. Now, I have one right down the road from me. I am SO excited about the Natural/Organic Foods section! It is 10 times the size of any others I've seen. Yippee!
My favorite thing about the store is the huge selection of organic produce! It is the largest selection of organic produce in one place (in my city) and it is sourced locally. That's a huge plus in my book! Their Organic and Natural Section was larger than any other I'd seen and I was very happy to see so many sale items. Pricing on staples (like ketchup) were almost as inexpensive as their conventional counterparts. Double yippee!
They had some amazing "extra" amenities you won't find in many other stores. There's a fresh sushi bar, fresh nut butter grinders and a bread slicing machine. Plus, their Seafood section has a nifty bag that you can marinate and cook your fish in. No dishes, no mess and you just throw it away. Love it! They also have a fresh orange juicer with plans to have a juice station at some point. Score!
Don't think it's possible to be this excited about a grocery store?! Take the time to visit to your local Kroger Marketplace and I'm sure you'll agree. After only a few visits, you'll see why I am switching grocery stores!
Where do you shop? Have you had the chance to visit your local Kroger Marketplace? I would love to know what your favorite thing about your store is.
This is a sponsored post written by me on behalf of Kroger Marketplace. The opinions and text are all mine.