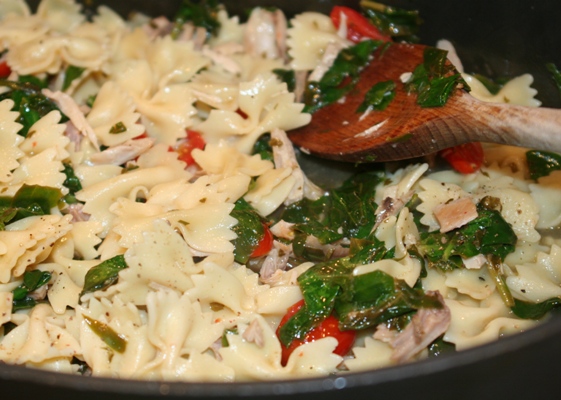 I call this leftover pasta because the ingredients depend on what is in my fridge.  I use the lemon butter sauce below and just change up the ingredients according to what I have on hand.
So, I had a bag of spinach, cherry tomatoes and some smoked chicken (Thanks Robyn!) for this one. Then I just made the sauce, and used some precooked pasta from my Provisions Prep Day this week.
Here it is…
Leftover Pasta
Sauce:
2 T olive oil
3 cloves garlic, minced
4-5 pats of butter
1 lemon juiced, or 3 T
1/2 cup white wine or chicken broth
Saute garlic in olive oil on med, then add wine/broth and the lemon juice.  Let it simmer for about 3-4 minutes. Add pats of butter to  melt.
Put in your add-ins like chicken, spinach and other vegetables.  Cook until warm. Add pasta and toss.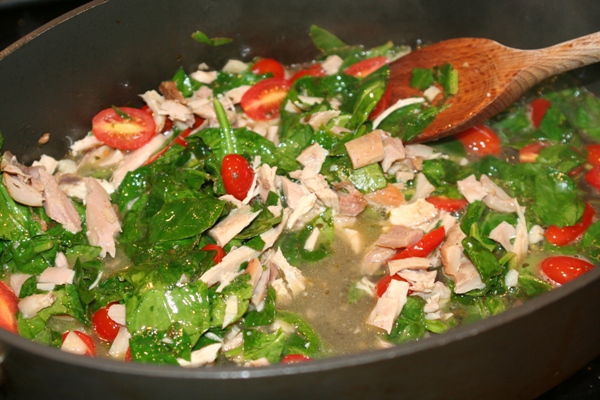 Serve with fresh parmesan cheese and garlic bread!
Recipe developed by Kelly Hancock ©2010 Faithful Provisions. For personal use only. May not be reproduced, reprinted or distributed for capital gain without prior permission from Kelly Hancock.