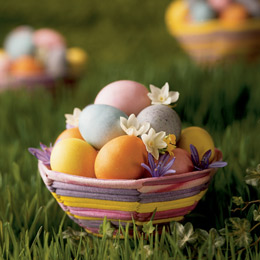 If you are looking for an all natural way to dye your Easter eggs, head over to Family Fun magazine's article on All Natural Egg Dyes. It is very cool. They use easy-to-find ingredients like turmeric and grape juice to color the eggs!
Also, check out Ramblings of a Crazy Woman's Mess Free Egg Dying Tip!
Find more Easter Ideas on Faithful Provisions.
Do you have a fun and easy Easter craft, recipe or idea to share? I'd love to hear about it! Send me an email to kelly (at) faithfulprovisions (dot) com.