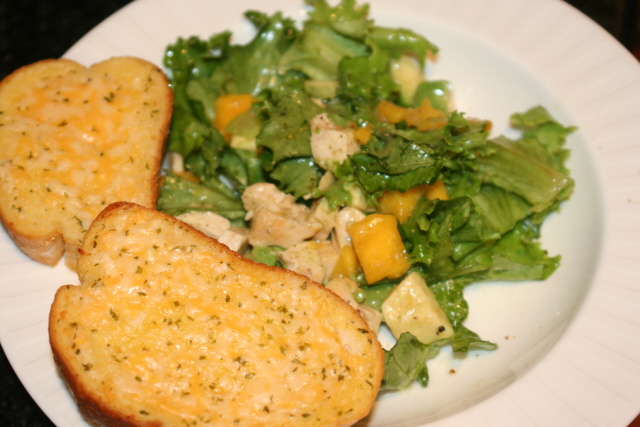 Tomorrow Kroger will have avocados and mangoes on sale for just $1/ea, so I thought I'd share one of my favorite salads.  I have noticed that mangoes and avocados usually go on sale at the same time.
Note:  You can add the chicken to make this a heartier meal, but it tastes great without it! The key to this salad is the dressing!  Green onions are great added too!
Mango Avocado Salad with Cumin Dressing
Dressing:
1 small shallot, finely chopped (optional)
1 teaspoon ground cumin
6 Tablespoons fresh lime juice (I use the little bottles)
2 Tablespoons extra virgin olive oil
3/4 cup oil (rice bran, canola or peanut)
sea salt and fresh ground pepper
2 teaspoons sugar, or to taste (to cut the lime tartness)
Salad:
1 mango, diced
1 avocado, diced
1 pound lettuce (green or red leaf, and mixed greens taste best with this)
1 lb cooked chicken, diced or shredded (optional)
2-3 green onions, chopped (optional)
Dressing:  Whisk the shallot, cumin, lime juice adn oils together in a small bowl until emulsified (mixed well!). Stir in seasonings and adjust to taste.
Salad: Place greens, mangoes and avocado in a large salad bowl and toss with 3-4 Tablespoons dressing.
TIP:  I always have lots of dressing left over and I use it for leftovers later in the week.  If you omit the shallots, this will stay in the refrigerator for a LONG time!