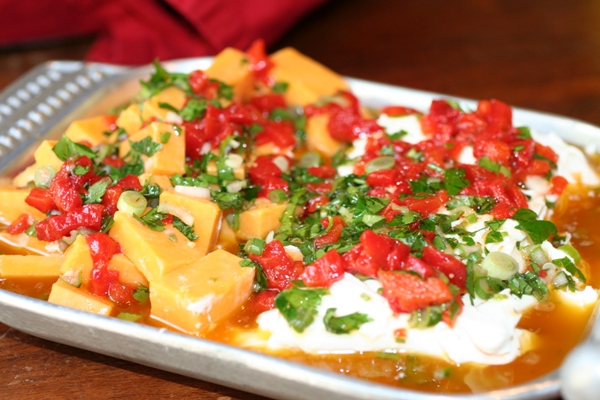 Of all my appetizer recipes, this is my all time favorite. This Marinated Cheese appetizer is a tangy, rich and creamy dip you can serve over crackers, french bread, tortilla chips or even crostini.
The red peppers and green onions definitely give this dish a beautiful color and make it just pop on the table. But more importantly they add a sweet and fresh flavor combination to the mild cheeses.
What makes this dish is the homemade red pepper vinaigrette. But, if you are in a pinch, you could always use a bottled Italian dressing , but it won't have quite the depth of flavor. The key is in the homemade marinade!
Typically with this dish, I use whatever cheeses I have on hand, which is most often cream cheese. Since, the cream cheese won't really freeze, it is quite difficult to cut it into squares. Instead, I cut the cheese like a checkerboard and pour the marinade over the top and into all the crevices in between.You probably won't get a clean cut, but the key is to find places to pour the marinade.
If you don't have roasted red peppers on hand, you could substitute to get the color with pimentos, but I don't like the flavor as much.
Marinated Cheese
Ingredients
8-ounce package cream cheese (chill in freezer)
8-ounce block hard cheese (cheddar, monterey jack, or pepper jack)
For the Marinade:
½ cup extra-virgin olive oil
½ cup red wine vinegar
¼ cup lime juice
1 teaspoon lime zest
1 teaspoon sugar
½ teaspoon salt
½ teaspoon black pepper
¾ cup roasted red peppers, chopped
4-5 green onions, chopped
2 tablespoons fresh parsley, chopped
Instructions
Combine vinegar, lime juice and zest, sugar, salt and pepper. Whisk in olive oil. Add in roasted peppers, green onions and parsley, and mix well. Set aside.
Cut hard cheese into ¼ inch thick slices, and about 2 inches long (or cubes). Take chilled cream cheese and slice length-wise and cross ways. Assemble both cheeses (one on one side and one on the other), in a dish that has sides to keep the marinade liquid in. A 3×5 dish is a good size, or a shallow bowl.
Spoon marinade over the top of cheese and chill for 2 hours or more before serving. Serve with assorted crackers or crostini.
More Appetizer Recipes you might like:
Recipe developed by Kelly Hancock ©2010 Faithful Provisions. For personal use only. May not be reproduced, reprinted or distributed for capital gain without prior permission from Kelly Hancock.